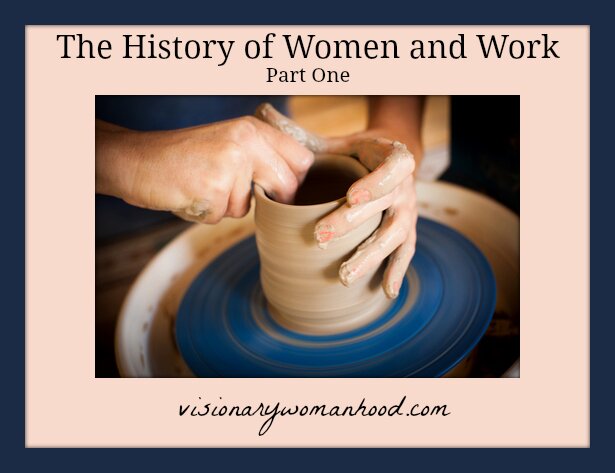 If you are new to this blog post series, let me quick catch you up to speed. I'm in the middle of reading a book called The Measure of Success: Uncovering the Biblical Perspective of Women, Work, and the Home, by Carolyn McCulley. It's definitely recommended reading. I started by writing Is Your Role "Full-Time-Playmate-for-Little-Kids" and then went on to talk about Mommy Guilt.
Today I want to give a brief overview of the history of women and work. For a more detailed picture I recommend that you get a copy of McCulley's book and read it for yourself. I'm only going to cover some main points here (and give you a few quotes) to set a framework for future discussion. I think it is important to know what's behind us if we want to figure out where to go, and I think understanding history is something that is sorely lacking in today's secular and Christian culture.
Ancient Times
Let's start with women and work back when the world was created.
We are created to subdue, or rule over, the world so that our labors imitate our working, creative God. Verse 28 expands clearly upon that concept with this command— given to both male and female—" be fruitful, multiply, fill the earth, and subdue it." In the paradise God created, human beings were designed to work and it was called very good. Work is how we imitate God. "When God created people and placed them in a perfect garden, work was part of his provision to give life meaning," theologian Leland Ryken writes. "It can still have that purpose today."
She makes the important point that work was not just for men.
Subduing thorns and thistles is hard work. The concept of work that emerges from Scripture implies intensity, raw energy, and a pioneering spirit. When God called men and women to work, he didn't intend for women to sit on the sidelines watching the men sweat. Women are to feel the weight of the work we're called to do. The original command to be productive did not change with the Fall, it only got harder. These words— be fruitful, multiply, fill the earth, subdue, and rule (have dominion)— reflect not only God's intentions for procreation but also a calling to bring a yield from the earth through our work.

The ESV Study Bible helps us to understand the original Hebrew: The term "subdue" (Hb. kabash) elsewhere means to bring a people or a land into subjection so that it will yield service to the one subduing it (Num. 32: 22, 29). Here the idea is that the man and woman are to make the earth's resources beneficial for themselves, which implies that they would investigate and develop the earth's resources to make them useful for human beings generally. This command provides a foundation for wise scientific and technological development. 3 This call is not negotiable. Women as well as men are called to work. The fourth commandment says, "Six days you shall work, but on the seventh day you shall rest" (Exod. 34: 21 esv). If we believe the authority of Scripture, we must walk in obedience and work, rejecting any and all passivity toward work.
The Proverbs 31 Woman
So women are supposed to work. OK. But what kind of work are they supposed to do?
The most important thing you need to know about this Old Testament "superwoman" is that she never existed. Found at the conclusion of the Old Testament's book of wisdom, she is only an archetype of what an excellent woman looks like, a compilation of fruitful activity in various seasons of life.

She is described in Proverbs 31: 10– 31, in an acrostic of verses about female excellence, one for each letter of the Hebrew alphabet. They are the sayings of an unknown king, taught to him by his mother. Presumably this mother was multitasking— teaching her son both his alphabet and the characteristics of a woman who would make an excellent wife.

Though we might think we know the Proverbs 31 woman well, once again we need to dust off our notions of her and examine this tribute closely to "reveal" what we can learn from her. This poetic tribute is a jumble of feminine qualities— addressing relationships, productivity, fruitfulness, and financial savvy— with only one short verse about beauty. It's easy to overlook the fact that this chapter has a lot more to say about her work than anything else.
McCulley makes several points about the work of the Proverbs 31 woman. She works for the good of those around her. She works willingly. She's an effective manager of a household and a business. She works within community. She plans ahead. She is skilled. She works to help the poor. Her husband has a good reputation in part because of her work. Ultimately she is praised not for her beauty, but for her hard work and the character that emanates through it.
New Testament Times
What did Paul think about women and work? These verses come to mind:
But refuse to enroll younger widows, for when their passions draw them away from Christ, they desire to marry and so incur condemnation for having abandoned their former faith. Besides that, they learn to be idlers, going about from house to house, and not only idlers, but also gossips and busybodies , saying what they should not. So I would have younger widows marry, bear children, manage their households, and give the adversary no occasion for slander. (1 Tim. 5: 11– 14 esv, emphasis added)

Older women likewise are to be reverent in behavior, not slanderers or slaves to much wine. They are to teach what is good, and so train the young women to love their husbands and children, to be self-controlled, pure, working at home, kind, and submissive to their own husbands, that the word of God may not be reviled. (Titus 2: 3– 5 esv, emphasis added)
McCulley makes the point that, back in the day, people didn't think of their homes as being an extension of who they were—where they merely relaxed and consumed. Their homes were not a simply a showcase of their personalities. Their homes were the primary location for major productivity. Households were thriving economic centers. So when we read Paul's words above, we shouldn't read them in terms of our modern view of the home.
Paul was not being "oppressively sexist" at all. Quite the contrary. One of the households that Paul spent a lot of time in was a wealthy business woman's home. He met Lydia when she was on a business trip in Europe, and she ended up hosting the first European church in Philippi.
Lydia's profitable work enabled her to be a bold partner in the gospel to Paul and his missionary companions and a patron of the new church begun in Philippi. In this, she followed in the footsteps of Susanna, Joanna, and Mary Magdalene, women who supported Jesus and His disciples "out of their own means" (Luke 8: 3 niv).

If Paul was willing to be supported by a tradeswoman like Lydia , why would he recommend women to be busy at home, managing their households? First, as we've already seen, most jobs at that time were based in or near the home. If today we read those passages through our own cultural context, and assume Paul wanted women sidelined and not in a place of influence, it would benefit us to look closer at the cultural context of Paul's time. By doing so, we will see that's exactly the opposite of what Paul meant. He wanted women to be influential and strategic for the sake of the gospel.
Paul was actually very counter-cultural. In a world where women were marginalized, Paul affirmed them in the influential work of managing productive households and spreading the gospel.
Next time we'll talk about the Reformation's contribution to the Christian's view of women and work—as well as what  happened in the last 200 years that caused a major shift in how we view the home and a woman's productivity.