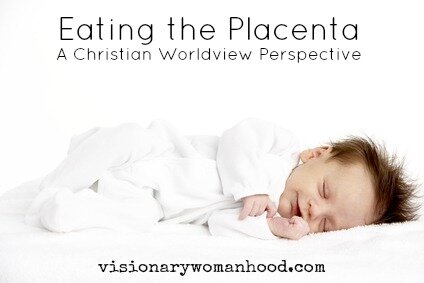 Placentophagy, the practice of eating the placenta after giving birth, is a subject of some interest among Wemmicks these days.  After googling it, I only found one other "voice" out there raising the question of whether or not it is a morally viable option for those who claim to be Christ-honoring, Bible-believing Christians.
All other voices, unbelievers and believers alike, tout the benefits of eating the placenta; and while it is not surprising that unbelievers would feel that the benefits should be the only consideration, (they are being consistent with their worldview, after all) it is interesting that, in general, Christians are also seeing only the pragmatic side to this controversial practice.
This post is not designed to tell you what to do.
That decision is yours, and you alone are responsible for it.  The purpose of this post is to let you know what worldview is informing your decision.  The worldview promoted on the VW blog is a Christian worldview.  Just because someone is a Christian does not necessarily mean they have a Christian worldview.  In fact, most Christians don't. For more information, see this related article.
We're going to attempt to do three things here:
1. We'll take a look at the four biggest arguments FOR placentophagy along with counter-arguments.
2. We'll learn some history as well as the worldview that undergirds the practice.
3. We'll find out what God's Word says (and doesn't say) about placentophagy.
Four Arguments for Eating the Placenta
1. The placenta is nutritious and beneficial to the health of the postpartum mother.
2. There are countless testimonies from women who claim it helped them avoid postpartum depression.
3. Most mammals eat the placenta after birth.
4. If it feels right to you, then it is right for you.  Nobody should judge another person for what makes them feel good, and those who say differently are heartless and don't care for postpartum women and their needs.
Four Counter Arguments for Eating the Placenta
1. Many human organs contain nutrients that would be beneficial if consumed.  It doesn't follow that we should consume human flesh.  This is a slippery slope with moral consequences.  It is the exact same pragmatic argument used by those who believe it is morally advisable to use fetal stem cells for the purpose of discovering medical solutions to serious diseases.  In other words, if it is beneficial, then it is morally acceptable.
From a factual, scientific standpoint, the placenta is a human organ that belongs to the baby.  When an egg is fertilized and makes its first division into two cells, one cell will develop into the baby and the other cell will develop into the placenta.
The definition of cannibalism is: the eating of human flesh by a human being.  The placenta is  human flesh, and as such, should not be consumed. Our Creator's words on the issue of cannibalism: Jer. 19:9; Lev. 26:29; Micah 3:3.  Our Creator's words on the issue of consuming blood in Gen. 9:4, Lev. 17:11, Lev. 17:14, and Deut. 12:23.
The Bible references the issue of eating a placenta in one, and only one, place.
She will hide from them the afterbirth and the new baby she has borne, so that she herself can secretly eat them. She will have nothing else to eat during the siege and terrible distress that your enemy will inflict on all your towns.

Deuteronomy 28:57
This is not a recommendation from God to eat the placenta, followed by the child.  It is, rather, a picture of what sinful humans will do in times of extreme distress and judgement.  Nowhere will you find a reference that even alludes to a woman eating the placenta.  It is never once mentioned as a general practice, as a recommendation from God, or even a provision from God as some Christians wishfully claim.  
If it really is something that God designed not only for the preservation of the baby within the womb, for also for the health of the mother after giving birth, why is there absolutely no reference or recommendation in His Word?  There is no Biblical precedent for placentophagy. 
On the other hand, this practice is firmly rooted and widely practiced within pantheistic religions that deny the Creator God of the Bible and worship nature. If we desire to live consistent with a Christian worldview, this should give us reason to pause.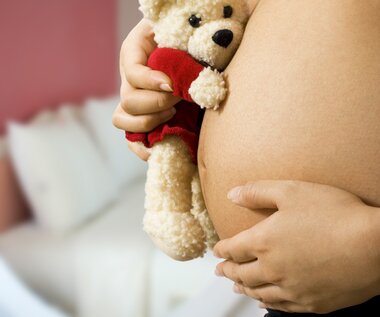 2. While many women have felt that eating the placenta has helped them avoid postpartum depression, it doesn't follow that it is an ethical solution to that very real problem.  That same argument is used by those who believe in a "woman's right to choose" abortion.  Abortion enables women to avoid not only postpartum depression, but the hardships, responsibilities, and challenges that come with raising a child or giving a child up for adoption.
Just because an action makes us "feel better" doesn't make it morally right.  There are many examples.  Sex outside of marriage, drug abuse, and overeating come to mind.  Postpartum depression is a complex issue that involves more than just our bodies.  We are whole beings made in the image of our Creator, with not only a body, but also a spirit and soul.
God takes all of these things into consideration when He guides and instructs us through His valuable and wholesome precepts.  To view postpartum depression as merely a physical issue is to miss a large component of the problem.  Yes, of course it is physical, but it also involves our spirit and soul.  Eating the placenta addresses the physical issue at the expense of the rest of who we are. 
This concept is rooted in modernism which sees humans as merely bodies (machines) that can be fixed by applying the correct "fuel".  God made us so much more complex than that.  And His ways of right and wrong are not arbitrary.  They are intrinsic in how He created human nature.  They are bound up in how we reflect His nature and Who He IS.
God, in His wisdom and goodness, has provided for our physical needs after birth.  In fact, in our particular place and time in history, we have access to the widest variety of the best, whole super-foods and nutritional supplements known in the history of mankind.
We also have science and medicine on our side.  There are many women who have found physical help by way of nutrition as well as hormonal therapy for postpartum depression.  The ancient, eastern practice of eating the placenta is not the only solution available to women today. 
But it could very well be the only unethical one.
3. Not all mammals eat their placentas as some claim.  Many mammals also eat their young (hamsters, hyenas, polar bears, wolfs and hippos to name a few).  Many mammals eat their feces. 
Humans are not animals.
The argument that most mammals eat the placentas of their young, and therefore humans ought to eat the placentas of their young as well stems from an evolutionary worldview that sees humans as mere animals.  This is not how our Creator sees us.  We are a reflection of Him, created in His image.  To compare humans to animals is to dishonor God, His character, and His Nature. 
4. The idea behind the argument, "What's good for you is good for you, and what's good for me is good for me, and if you tell me differently, THEN you don't like me, AND you're not nice" is rooted in a humanist worldview.  It is based on the idea that humans were not created with meaning by intelligent design for a purpose, but that we are simply here by accident.  We live by instincts.  It's the survival of the fittest. We are no different from animals and plants.
Underlying this worldview is the belief that there is no God; therefore, there is no ultimate standard of right or wrong.  If a society finds infanticide to be morally wrong for today, then it is.  But if they change their mind down the road…then who is to say it is wrong at that point?
The current standard is decided by a fickle culture at large, but more specifically, by individuals who may  find that certain behaviors or activities feel good enough or "right enough" to them, personally.  And again, if there is no ultimate standard, who is to say they are wrong?
Certainly not the Bible.  If there is no God—what's the Bible?  And who cares what it says?  Believe it or not, this humanist argument shows up even in Christian circles whenever someone gets out their Bible and starts studying it in regard to any issue.  There are a few Wemmicks who dare to speak out against issues such as this one, and they have been accused of being unloving—of not, for example, "caring about postpartum women suffering from depression."
This could not be further from the truth.
The reality is—they risk having verbal stones hurled at them in anger.  They speak out, not because they do not care. But because they do care.  They risk their own reputations and their own comforts to love others by sharing truth from the Word of God, something that is not valued by most Wemmicks today.
But truth is what sets us free.
We don't have to be tied down to Wemmick culture.  God wants to set us free to discover His best plans and solutions for the healing of our whole selves—body, spirit and soul.  We are not free to find His wisdom when we limit ourselves to Wemmick wisdom.
Whoever trust in his own mind is a fool, but he who walks in wisdom will be delivered.

Proverbs 28:26
I know of one woman who has given her life to helping others, and she wakes up many mornings to hate mail from fellow "Christians." This phenomenon is not new to the world.  The prophets were stoned, Christ was crucified, and the early Christians were martyred, not by the heathen, but by religious Wemmicks.  Fascinating to consider.
If you want to live consistent with a Christian worldview, you will view the Word of God as your supreme plumb line.  Not Oprah Winfrey.  Not your peers.  Not your favorite blogger.  God's Word.  Be saturated in it.  Be informed by it.
But this is the one to whom I will look:  he who is humble and contrite in spirit and trembles at My Word.

Isaiah 66:2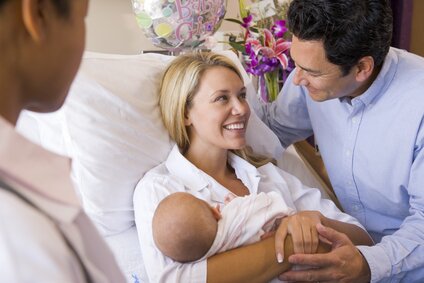 So Where Did Placentophagy Come From Anyway?
You can learn about some of the cultures that have revered the placenta in history HERE.  Google it, and you'll find more information than you'll care to read.  If you do peruse the article mentioned, you'll read about the Ibo of Nigeria and Ghana who believe the placenta to be the child's twin.  You'll discover that the Parigi of the Celebes Islands view the placenta as the older brother.  Some believe the placenta should be buried in holy burial grounds, and that it will become ill if the child becomes ill. The Baganda of Uganda believe the placenta has its own spirit that resides in the umbilical cord.
And there's more.
Placentophagy has largely been practiced in eastern societies throughout history.  These societies are drenched in naturalist religions that are pantheistic, meaning that they believe we are one with nature, and all of nature is God.  They worship nature.
As we see God eliminated from our western culture through the atheistic, evolutionary worldview indoctrination that is taking place in our government-run education system, we are seeing eastern worldviews infiltrating our culture at a rapid speed.  It follows then, that we will see a rise in the practices that follow these worldviews.
If we are going to come away from this intact, as whole, healthy, God-glorifying, Christ-honoring, Scripture-saturated women, then we must exercise discernment and not be swayed by every "wind."
…until we all attain to the unity of the faith and of the knowledge of the Son of God, to mature manhood, to the measure of the stature of the fullness of Christ, so that we may no longer be children, tossed to and fro by the waves and carried about by every wind of doctrine, by human cunning, by craftiness in deceitful schemes. Rather, speaking the truth in love, we are to grow up in every way into him who is the head, into Christ, from whom the whole body, joined and held together by every joint with which it is equipped, when each part is working properly, makes the body grow so that it builds itself up in love.

Ephesians 4:13-16
So What's The Bottom Line?
If you are a Christian, you are not forced to live consistent with a Christian worldview.  In fact, most do not.  But then have enough courage and integrity to be honest about that with yourself and others.  If, on the other hand, you desire to live consistent with a Christian worldview, and you still want to eat your child's placenta, then you'll need to make a Biblical, Christian worldview case for doing so.  At the very least, you will need the following to make your case:
1. Biblical precedence or principle for consuming raw, human flesh.
2. Historical evidence of the Church of Jesus Christ practicing and promoting this based on the above precedence.
If you are unable to do that, then you are left with your own autonomous choice, apart from God.
I will practice placentophagy because…
…I will.
You said in your heart, "I will ascend to heaven; I will raise my throne above the stars of God; I will sit enthroned on the mount of assembly, on the utmost heights of the sacred mountain.  I will ascend above the tops of the clouds; I will make myself like the Most High."

Isaiah 14:13-14
That's one way to respond to our Creator. 
Jesus modeled another way:

…not my will, but yours, be done.

Luke 22:42
{To further exercise your mind and heart in thinking like a true Christian, I highly recommend Nancy Pearcey's book, Total Truth: Liberating Christianity from Its Cultural Captivity.  It will rock your world.}