I wrote about this in 2011 (jeepers, time flies), but it bears repeating since it has the potential to change the quality of life for many women. So consider this a recycled post with a bit of an update on how this herb has once again come to my rescue in these later years when I'm beginning to go through "the change."
I was a late bloomer. I don't think I started my cycle until I was about 14 years old, and I never really developed much on top either.  My cycles were very irregular and LONG.  I would cycle about every 2 months or so for many years, and I had horrible PMS symptoms. What was my problem?  I'm not sure, but God was kind to bring a simple, inexpensive, and natural  herb to my attention after my third child was born, and it changed everything.
I started reading a series of books written by Shonda Parker: Naturally Healthy Woman, Naturally Healthy Pregnancy, and Mommy Diagnostics.  I really liked her common sense approach.  Instead of throwing out all conventional medicine, she encouraged women to be open to natural alternatives first, and then, if they were not accomplishing the goal, to turn to conventional medicine.  It was a refreshing, balanced perspective, and because she was an experienced herbalist and instructor as well as a solid, biblical Christian, I felt relatively confident in the advice she offered.
Some of the things that came up over and over in her forums were the issues of hormone imbalance, infertility, lack of milk supply for nursing mothers, PMS, and other female plagues.  Her answer to so many of these problems was a simple herb called Vitex Agnus Castus.
If you go to her question/answer forum you will be able to read all kinds of great questions (and her answers) on many health issues of interest to women. She recommends Vitex for so many things. Here is just one quote:
Vitex is the best herb for balancing hormones.  It has been well-studied and shown to be effective for conditions with insufficiencies of overproduction of estrogen and progesterone.  We would call Vitex's action on the female hormone levels adaptogenic.  While it does decrease prolactin levels in those with elevated levels that result in a luteal phase defect, it is also used to increase milk production, thus not being a problem at all in nursing.
I started taking this herb about 14 years ago, and it made an obvious change in three areas:
My milk supply increased.  I was able to nurse without supplementing for as long as I desired.  With my first two babies I had to start supplementing with formula around 4 months.
My cycles went from sporadic and long (around 50 days give or take a week or two) to exactly 28 days.
My PMS symptoms eased.  I was told that if you have bad PMS as a youth, it will only get worse as you age.  I have not found that to be true at all—rather the opposite.
One other interesting thing—there are four years between my second and third babies, and I had a hard time conceiving during that time period. The one time I did conceive it ended in an early miscarriage.  Since I started using Vitex I've had no trouble conceiving.  Yes, I've had three more losses (all after I turned 40); however, conception has been very easy, and three of our children were born in my 40s. My last baby was born when I was 45.
This past year when I weaned my youngest I began experiencing hot flashes almost non-stop. Yes, I was under a great deal of stress due to some issues outside of my control, and I knew that I was entering the time of life when a woman begins to experience these kinds of symptoms, BUT I certainly didn't think it was normal to be having horribly uncomfortable hot flashes every 10-15 minutes around the clock. I was literally tossing and turning all night – and would wake up soaked in sweat.
Back to Shonda's forums I went. This time I was looking for answers to all my brand new questions. She suggested doubling the dose of Vitex in cases like mine and then waiting 2-3 months for the new dose to kick in a re-regulate the hormones. I doubled my daily dose of one tablet to two tablets and waited. One month. Two months. Is this going to work? Oh PLEASE GOD let this work! Sure enough, by the time three months had passed my hot flashes were a thing of the past. I've had maybe 5- 10 hot flashes in the past four months all put together. Now that's more like it.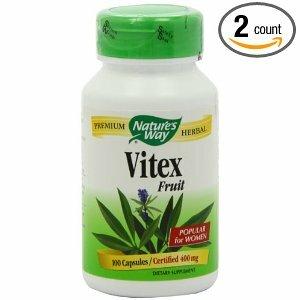 The brand I've used from the beginning is Nature's Way.  It's inexpensive, and you really only need one per day. If you have never heard of Vitex, I encourage you to research it further and discover for yourself the wonderful benefits that it offers to women. You can start by reading this helpful article HERE.
(BTW, there are ZERO affiliate links in this post. It's just little-old-me ranting and raving about a product I genuinely use and love. I live in one of the states that has tax laws that don't allow us to be Amazon affiliates.)
Here's to happy hormones!