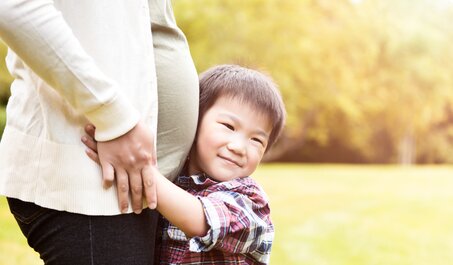 I received the following e-mail recently:
My husband and I are in the long slow process of changing our thinking about family size.  We are currently expecting our fifth little treasure, and we are so grateful, and excited.  And a little scared sometimes, too, haha.  :)  Our oldest is 6.5, so we are still in the "sowing years" of parenting – this job is monumental!

But the question I wanted to present you with today about having lots of precious little ones is not about raising them through these training years, but about enduring through many pregnancies.  My last pregnancy, I was diagnosed with pubis-symphysis dysfunction; that never really goes away and started causing me enormous pain very early on this pregnancy.  Now, at just 18.5 weeks, I'm already experiencing a great amount of pain in my pelvic floor, despite the dozens of Kegel exercises I do daily.  The simplest and most accurate way I can think of to describe it is that it feels like I have a bowling ball…crowning.  Just like I am very, very, very swollen and sore all the time.  It's difficult and painful to stand for long periods of time – much less do anything.

I suppose my questions are manifold here.  I have seen so much encouragement about embracing God's plan for our reproductive years; how do you physically soldier on with so much pain during gestation?  I know it's temporary – a very brief 40 weeks each time – but for now I have only little children (6.5-1.5) and they require lots of help/assistance/doing.  Second, is this truly as normal as my OB is telling me, or is there something I could or should be doing differently (diet, support garments)?

I truly want to surrender all, even this temple He has entrusted to me for Himself for this short life.  Yet it is difficult for me to imagine how I will do this again and again (and possibly again), and keep life and school and household running even haphazardly when I am already experiencing such pain after just 4 vaginal deliveries.

I did want to add in to my question that I am still quite young – just 30 – and with each pregnancy so far have experienced primary lactation failure, sometimes beginning as early as 6 days postpartum, but always complete and final by about 4 weeks.  So my cycles, and therefore fertility, return very quickly.  I know this is a gift, especially with so many friends suffering from infertility issues.  I just say that to communicate to you that I don't get that God's-perfect-design-for-child-spacing benefit of amenorrhea from extended breastfeeding that I wish I could.  I pray each time that God will change our story and allow my body to make milk, but so far, He has not determined that to be in the best interest of the display of His glory in our lives.

So all that to say, in addition to feeling overwhelmed physically at the thought of more pregnancies, I stand in a position to experience lots more of them, based on age and fertility.  :)  A precious gift, yes, but at the moment (even now I am limping everywhere today), a somewhat daunting one.
Before I dig in and address some issues here, I want to acknowledge that this is a real woman with real physical pain and real concerns about her future.  She has agreed to allow me to answer her email in a blog post, but I'm not really writing to her personally; I'm writing to all of the readers in general.  Because of this, I run the risk of coming across cavalier about her problems.
Please know that I feel a great deal of compassion for her and for anyone who faces similar, and even more difficult, circumstances.  I don't want to waste any time blubbering though, so forgive me if I just dive in and get to the point.  My heart is to help, and one can only do so much in a blog post.  If you are able to hang in there until the end of the post, I'll have some practical ideas as well.
Things Fall Apart
I'm betting that there are a lot of women nodding their heads after reading her email.  "Yup.  That's me.  Different problems, but I, too, am falling apart at the seams.  How am I going to last through another pregnancy, let alone the next 40 years of life?"
When Eve took the bite, everything started deteriorating and death began its gruesome work.  So the first thing we need to remind ourselves (and accept)  is that whether or not pregnancies are involved, all human bodies will eventually fall apart and give way to death.
I've spent almost two years of my life on bed rest with difficult pregnancies.  I lost my first baby at 21 weeks and got a diagnosis of "Incompetent Cervix" all at the same time in 1993.  My legs look like a bomb went off from my ankles up to my groin area due to varicose veins. I live with chronic pain in my neck, back, hips, and legs.  I have diastasis recti – a three inch muscle separation in my abdomen due to repeated pregnancies, enabling me to look four months pregnant at all times.  And I am one of the 7% of women who have pubis-symphysis dysfunction long AFTER the pregnancy is over.  I'm still trying to find solutions to bring healing to my body after nine pregnancies.
My body isn't pretty anymore, and I'm dying.  In fact, within the next 40 years I will likely be six feet under and really looking bad.  Once that happens, my legs, abdomen, hips, and back won't matter, and when God gives me my body – made new one day – I won't care that I sounded and felt like a wooden puppet on strings for a few short years.
…we rejoice in hope of the glory of God. More than that, we rejoice in our sufferings, knowing that suffering produces endurance, and endurance produces character, and character produces hope, and hope does not put us to shame, because God's love has been poured into our hearts through the Holy Spirit who has been given to us. (Romans 5:2-5)
Take Away Point:
Whether or not you go through multiple pregnancies, you may have various and sundry health issues that are not fun to live with.  We can learn to rejoice in our sufferings knowing that they are producing the character of Christ in our lives and will bear eternal fruit to the glory of God.

Wemmick Pressure – or Faith?
A lot of folks make decisions based on what all the other Wemmicks around them are doing.  If bunches are all getting sterilized and saying that's a good idea, then a bunch more will follow.  If a group breaks away and says, "No More Sterilization!" then some will turn their heads and follow that crowd.  Call it peer pressure.  Call it Wemmick pressure.  Ask me how I'm familiar with it.
We will only be truly rested and at peace if we make our decisions based on what the Woodcarver has taught us.  This means ignoring the crowds and going straight to the Source of wisdom and truth.  If we decide to give our fertility to God because we run in circles that are doing that – but we have no real understanding or conviction behind those decisions – we will melt at the first obstacle.
I would challenge anyone reading this to consider where your convictions on this issue – and a myriad of other issues (home education is another one that comes to mind off the bat) are coming from.  Have you studied God's Word on the issue?  Have you and your husband made an informed decision, looking at all the angles, considering the consequences of the various options from an eternal standpoint, and being prepared to accept those consequences?
If you have lots of babies, you may die early.  (You may not, but you may.)  If you don't have lots of babies, you may still die early, and you'll never know WHO you missed out on knowing and loving.  Forever.  A person will not have the opportunity to fulfill a destiny.  A million things that are set into motion by the birth of a human life will never happen.  Consider these things, not from our little Wemmick view down here in the dirt.  Consider it from God's perspective.  Up high.
So we do not lose heart. Though our outer self is wasting away, our inner self is being renewed day by day. For this light momentary affliction is preparing for us an eternal weight of glory beyond all comparison, as we look not to the things that are seen but to the things that are unseen. For the things that are seen are transient, but the things that are unseen are eternal. (II Corinthians 4:16-18)
Take Away Point:
If you decide to allow God to give you more children, you may suffer in different ways emotionally and physically.  Love always pays a price.  If it didn't, it wouldn't be love.  Don't do it because someone tells you that you HAVE to to be "godly."  Do it for love.  Do it for love of your Savior.  Do it because you love LIFE.  Every single one of my nine children's lives ended up being worth it.  I wouldn't trade even one for a beautiful body that feels like a million bucks.

Anxiety About the Future vs. Peace and Trust in a Sovereign God
Raise your hand if you consider yourself a fearful person.  Yes.  My hand is raised too.  I've wrestled with fear my whole life.  I thought for sure my mom would be dead before I was 16 years old, and I'm not kidding.  When I turned 16 and she was still alive, I was flabbergasted.  And glad.  (She is still alive and going strong to this day.)
I thought I'd never get married.  I've been married for 21 years.
I lost my first baby at 21 weeks.  I was certain I'd lose my second one.  He's 19 years old now.
I spent my first four pregnancies (after our loss) on bed rest.  I thought for sure I'd be in bed cross stitching my life away until menopause hit.  My last five pregnancies I've been up and about all the way through – and even went two weeks overdue with one of them.
I had sciatic nerve pain during one of my pregnancies that made me want to commit harikari.  I thought I'd have that for every subsequent pregnancy.  I never had it again.
I've been afraid of one of my kids drowning, falling, getting hit by a car, or electrocuted every since I held my first baby in my arms.  So far, none of that has happened.  Could it happen?  Yes.  But if I were to spend my life dwelling on all the "what ifs," I'd go insane.  And besides, God very clearly tells me NOT to do that.
"The Lord is at hand; do not be anxious about anything, but in everything by prayer and supplication with thanksgiving let your requests be made known to God. And the peace of God, which surpasses all understanding, will guard your hearts and your minds in Christ Jesus." (Philippians 4:5-7)
Bad things can, and do happen.  When they do, God promises His grace to be sufficient.  He will not give us His grace for a tragedy that is around the corner until it happens.  And He will not give you the strength, peace, and grace to endure the pregnancy you'll experience in 2015 – today.  He will, however, give you all you need to make it through this day.
You could be dead next week, so why worry about a future pregnancy that may not happen?  And even if you're not dead, who says that just because you've been fertile so far, that you'll continue to enjoy easy fertility?  I know many, many women who suddenly lost their fertility.  One year they were enjoying a baby…and they never got pregnant again.  This is not uncommon.
But let's say that you ARE destined to have 15 more children.  Wow.  If that's the case, do you think God will abandon you?  Of course not.  Will others curse you?  Perhaps.  Some will think you are wacko.  (And again, if you're doing it from Wemmick pressure, then you maybe are wacko.)  But if you are embracing each child from God as a gift and reveling it each one, then it won't matter what anyone thinks.  (They're just silly Wemmicks, remember?)
" Trust in the Lord with all your heart, and do not lean on your own understanding. In all your ways acknowledge him, and he will make straight your paths. Be not wise in your own eyes; fear the Lord, and turn away from evil. It will be healing to your flesh and refreshment to your bones." (Psalm 3:5-8)

"'My grace is sufficient for you, for my power is made perfect in weakness.' Therefore I will boast all the more gladly of my weaknesses, so that the power of Christ may rest upon me." (II Corinthians 12:9)
Take Away Point:
Because we live in a fallen world, life will be rough.  God is powerful in our weaknesses, He is in control of all things, nothing surprises Him or causes Him to wring His hands in frustration or confusion, and we can trust Him to get us through whatever path He may choose for us.  If we trust Him, He will be glorified in our lives, and we will experience His peace and joy in spite of our circumstances.
Some Practical Advice
Have you ever considered Natural Family Planning?  It's just an idea, but if I were in your shoes and was unable to nurse my babies, I might choose to naturally space my pregnancies using this method.  I realize some Wemmicks don't agree with me on this.  You'll need to go to God's Word and study this out for yourself – and then make your own decision on the subject.
If you are in a lot of pain, take to your couch.  I do.  Try a support belt to relieve the pain.  This one works like a dream for me.  The last three pregnancies I experienced unbearable pain when walking the last trimester due to that pubis-symphysis dysfunction thingy. I basically didn't go anywhere.  Even to church.  (Gasp!)  It's OK to lay low and do what you need to do to cope.
Your little ones will start getting bigger FAST.  And then life will get much easier because the older ones won't require much from you, and they'll actually be a huge help to you.  I thought I was going to lose my mind after #4 came along.  And then  #5 came, and life suddenly got easier.  The dynamics completely changed, and every baby I've had since then has been a breeze.  I'm not saying that will happen in exactly the same way, but if you are raising your children to be givers and not takers, you will reap some beautiful fruit that will enable you to do so much more as you progress through your thirties and beyond.  I have nine kids ages 1-19, run our home, our home school, this blog, and a thriving home business.  I could not do that back when I only had 4 kids 8 and under.  Things change.
I have a book coming out in June (not titled yet) where ten women share their stories of fertility through three decades.  Most, if not all of them have suffered physically for their choice to embrace life.  You will be so encouraged by their testimonies of God's faithfulness to them.
Here are some good links related to pain:
Exercises for pubis-symphysis dysfunction
Six Steps to Climbing out of the Pits
I pray you find hope and peace as you move through this pregnancy.  One day (and it will come in a blink) you will look back and find that it, too, passed.  And it was worth it.