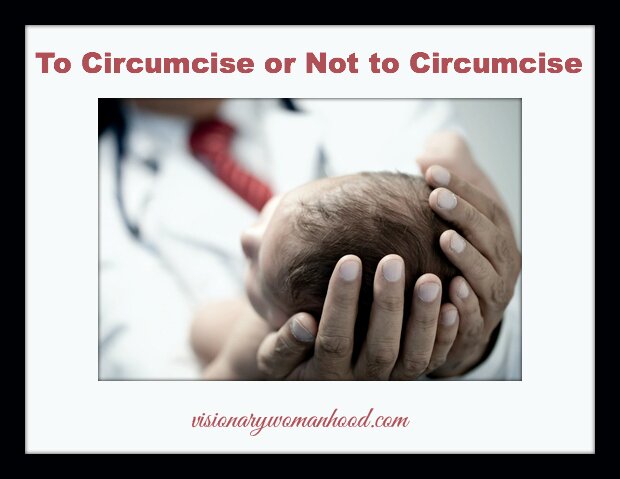 W

ritten by Natalie, Editress of Visionary Womanhood

Ahhh. If only I could blog up a plate full of warm, delicious muffins every morning to all you sweet ladies. But no. I feel the urge to write about things like epidurals, eating placentas, and now—chopping up baby bottoms. Can someone pass the muffins?

Almost nineteen years ago when I gave birth to our first son, our doctor told us that circumcision was the best choice for him from a medical stand point. Insurance covered it. It was recommended by my fellow Christian Wemmick friends. Plus all the Israelites did it. No brainer.

Six months ago we gave birth to our youngest son, and our doctor told us it was medically unnecessary, there were risks involved, and our insurance may not cover it. Plus it is fast becoming the new taboo among many Wemmicks—both Christian and otherwise. Right up there with dismemberment and cannibalism. Just about.

What's a parent to do? Who to believe?

I feel a swing coming on…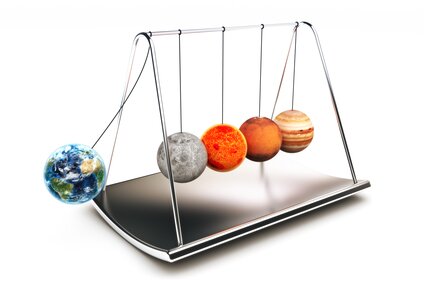 Wemmicks On Your Right
…who believe that A. since God initiated circumcision for the Jewish people, then B. it's a good thing, and therefore C. all Christians should do it too. They would argue that there are medical benefits to circumcision. They would also argue that the heathen weren't circumcised because it would interfere with sexual pleasure. (As if good sex was a heathen activity.)
Wemmicks On Your Left
.. .a growing tsunami of people, believers and unbelievers alike, who are somewhat emotional about the whole thing, going so far as to call it, among other things, "sin."  Believing circumcision to be "mutilation," "barbaric," "a crime," "torture,"and "unethical," they see themselves as fighting for the rights of infants. (I can't resist observing here that some (not all) of these same people refuse to fight for the rights of infants to LIVE.  Many are happy to allow women the right "to choose" to literally dismember their babies alive while they are physically in the womb—but once they are "out," no cutting allowed.)
And Then There's God
When you want to know the 769 bizillion opinions of Wemmicks, all you need is Google. When you want to know what God says, all you need is a Bible. So now that we've Googled, what does the Bible teach about circumcision? And how do we apply that to our lives?
At this point, I'd like to admit right up front that I have spent most of my life making the knee jerk choices that come from culture saturation.  If all the other Christians were making it sound spiritual and doing it, then I wouldn't even have to think about it. Of course I'd do it too. If they were all saying something was bad, I'd think it was bad too. If my Christian circles changed, then my choice on any given issue would change too. Anyone else do that?
It's only been in the last few years that I've realized how unwise (and Wemmicky) that is. Old habits die hard. Even now I have to make a conscious effort to ask, "What does the BIBLE say about this issue?" every time I am faced with a decision.
So back to the question. What DOES the Bible say about circumcision? First of all, it is important to note that God made every baby boy with an intact penis. And when He was done with the creation of the world, and it was still in a sinless state, He said it was "good." (Genesis 1:31)
In the Old Testament
God established circumcision as part of His covenant with the Israelites. It was an outward sign that they were set apart as holy to God. They belonged to Him.
This is my covenant, which you shall keep, between me and you and your offspring after you: Every male among you shall be circumcised. You shall be circumcised in the flesh of your foreskins, and it shall be a sign of the covenant between me and you. He who is eight days old among you shall be circumcised. Every male throughout your generations, whether born in your house or bought with your money from any foreigner who is not of your offspring, both he who is born in your house and he who is bought with your money, shall surely be circumcised. So shall my covenant be in your flesh an everlasting covenant. Any uncircumcised male who is not circumcised in the flesh of his foreskin shall be cut off from his people; he has broken my covenant. Genesis 17:10-14
If a stranger shall sojourn with you and would keep the Passover to the Lord, let all his males be circumcised. Then he may come near and keep it; he shall be as a native of the land. But no uncircumcised person shall eat of it. Exodus 12:48
And on the eighth day the flesh of his foreskin shall be circumcised. Leviticus 12:3
The Bible teaches us,  "You are good and do good" (Psalm 119:68); therefore, I think it is safe to say that God would not use the same terms Wemmicks use to describe circumcision (barbaric, torturous, a crime, unethical). In typical Wemmick style, we sometimes think we are nicer than God.
And when God's people turned away from Him, even though they were physically circumcised, God says they were uncircumcised in their hearts. In other words, to be circumcised in the heart was the point, while the outward circumcision was merely a sign.
Behold, the days are coming, declares the Lord, when I will punish all those who are circumcised merely in the flesh— Egypt, Judah, Edom, the sons of Ammon, Moab, and all who dwell in the desert who cut the corners of their hair, for all these nations are uncircumcised, and all the house of Israel are uncircumcised in heart.  (Jeremiah 9:25-26)
Circumcise therefore the foreskin of your heart, and be no longer stubborn. (Deuteronomy 10:16)
And the Lord your God will circumcise your heart and the heart of your offspring, so that you will love the Lord your God with all your heart and with all your soul, that you may live. (Deuteronomy 30:6)
This is further explained:
The rite of circumcision predates the giving of the Torah to Moses at Sinai, of course, and was given to Abraham as a sign of separation from his pagan past (Gen. 17:10-14). As a literal cut into the reproductive organ of flesh, it was meant to (intimately) put the mark of the LORD at the point of contact with the lower "reproductive" nature. As such, it was inherently symbolic, since no fleshly operation could sever the connection of the yetser hara from the loins of man (Gal. 6:8).

The Torah and Prophets confirm this understanding that the physical rite itself was intended to signify a spiritual change within a person. For example, "Circumcise, therefore, the foreskin of your heart, and be no more stiff-necked'" (Deut. 10:16). And again, "Circumcise yourselves to the Lord, and take away the foreskins of your heart, you men of Judah and inhabitants of Jerusalem, lest My fury come forth like fire and burn that none can quench it, because of the evil of your doings'" (Jer. 4:4). Thus it is clear from the Tanakh that "circumcision" was always intended to be sign of inward transformation rather than an external ritual.

Should a Christian Be Circumcised, John J. Parsons
In the New Testament
For no one is a Jew who is merely one outwardly, nor is circumcision outward and physical.  (Acts 16:3)
For circumcision indeed is of value if you obey the law, but if you break the law, your circumcision becomes uncircumcision. So, if a man who is uncircumcised keeps the precepts of the law, will not his uncircumcision be regarded as circumcision? Then he who is physically uncircumcised but keeps the law will condemn you who have the written code and circumcision but break the law. For no one is a Jew who is merely one outwardly, nor is circumcision outward and physical. But a Jew is one inwardly, and circumcision is a matter of the heart, by the Spirit, not by the letter. His praise is not from man but from God. (Romans 2:25-29)
Is this blessing then only for the circumcised, or also for the uncircumcised? We say that faith was counted to Abraham as righteousness. How then was it counted to him? Was it before or after he had been circumcised? It was not after, but before he was circumcised. He received the sign of circumcision as a seal of the righteousness that he had by faith while he was still uncircumcised. The purpose was to make him the father of all who believe without being circumcised, so that righteousness would be counted to them as well…(Romans 4:9-11)
Then what advantage has the Jew? Or what is the value of circumcision? Much in every way. To begin with, the Jews were entrusted with the oracles of God.  (Romans 3:1-2)
But even Titus, who was with me, was not forced to be circumcised, though he was a Greek. For neither circumcision counts for anything nor uncircumcision, but keeping the commandments of God.(I Corinthians 7:18-19)
For we are the circumcision, who worship by the Spirit of God and glory in Christ Jesus and put no confidence in the flesh—(Galatians 2:3)
Circumcise yourselves to the Lord; remove the foreskin of your hearts, O men of Judah and inhabitants of Jerusalem; lest my wrath go forth like fire, and burn with none to quench it, because of the evil of your deeds. (Philippians 3:3)
He received the sign of circumcision as a seal of the righteousness that he had by faith while he was still uncircumcised. The purpose was to make him the father of all who believe without being circumcised, so that righteousness would be counted to them as well. (Ephesians 2:11)
In him also you were circumcised with a circumcision made without hands, by putting off the body of the flesh, by the circumcision of Christ, having been buried with him in baptism, in which you were also raised with him through faith in the powerful working of God, who raised him from the dead. (Colossians 2:11-12)
There are more verses, but these selections cover the main points of this topic. God makes it clear that nobody has ever been, or ever will be, saved through circumcision. Once again, circumcision is an outward symbol of a heart that is God-ward.  Even the Jews in the Old Testament were saved by FAITH in God. Not by rule-keeping.
The New Testament acknowledges circumcision as a valid ritual, but it is no longer required as a sign, because now the Holy Spirit living in us is the mark of our true circumcision. When the Greeks were saved, their fellow Jewish Christians were not to "force" them to be circumcised. So you had a growing church made up of Jews and Greeks—circumcised and uncircumcised—and the issue of circumcision was to be a NON-issue.
What That Means for Today
Practically speaking, should we circumcise our sons or not? The Bible teaches that we are free to select either option.  The sensationalized scare tactics by both Christian and non-Christian Wemmicks are just that—sensationalism. It reminds me of all the internet hype about epidurals or C-sections that play on a woman's fear of losing her life or the life of her baby, when the risk of losing life is just as high or higher without those options available when necessary.
While there may be hospitals, still stuck in the dark ages, circumcising infants without anesthetic, there aren't any where I live.  We have five boys—all circumcised and all with anesthetic. I watched the entire circumcision of David 6 months ago, and he was happy as a clam throughout the process. When my other baby boys were brought back to me after their circs, none of them were crying or upset in any way. They all healed up nicely. End of story.
If you know of an institution performing surgeries like this without anesthetic, perhaps you should be contacting the proper authorities. Rather than throwing out the option to circumcise, let's work to make that type of surgery gentle and safe for those who choose that route.
Would we have chosen circumcision if we had to do it all over again? I'm not sure, but I think we may have gone a different route had we just relied on God's Word to guide us instead of cultural tradition. Do we feel bad about the fact that our sons are all circumcised? No. God was the instigator of both uncircumcision and circumcision. There are pros and cons to each choice, and before God, we are at peace.
A couple needs to think about it, talk about it, and pray about it—and then make their own decision. They may decide to do it or not do it for health reasons. For aesthetic reasons. For spiritual reasons. The only reason that one should NOT do it, according to the Bible, is for the purpose of salvation. Only faith in the shed blood of Jesus Christ saves us.
And that's one bloody story with redeeming value for all Wemmicks, everywhere.
For a balanced article on this subject, I recommend:
Criminalizing Circumcision by David Neff