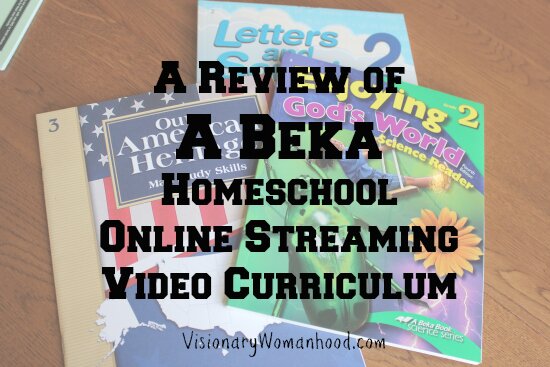 This is Part Two of a two-part series. You can read Part One HERE. Please note: this review is not intended to convince anyone they should use A Beka. I certainly don't believe it is the best choice for everyone. I simply want to share why we are using is this year as opposed to some of the other curricula we have used and loved in the past – and what my initial observations have been since we began trying it out. This is for information's sake only. Feel free to post any questions in the comments section, and I'll be happy to answer them to the best of my knowledge/experience.
A few years ago our family got together with some other families from church to do some school presentations for one another. Each child had an opportunity to present a science project, recite a poem, etc. for everyone else. One of the high schoolers at the time did an impromptu overview of the Middle Ages. He spoke for at least ten minutes making all the historical cause and effect connections, talking intelligently about the key players and their philosophies, and so forth. The adults in the room all had to pick their jaws off the floor when he was finished.
I glanced sideways at his mother, an unassuming, sweet, humble, kind woman who just loves on everyone and always seems at peace with the world. "How does she DO IT?" I wondered. Turns out, she uses A Beka.
This boy learned all of that and could regurgitate it intelligently, on the spur of the moment, by listening to a history teacher give lectures online, and by reading dry, boring textbooks. And he loves history as a result.
This shattered the stereotype that I had in my mind, and I started to watch this family. When we got together for family game times, they loved to play a trivia type game. Their two super sweet grade school boys would win, hands down, in the different categories. They would smile shyly as they answered the questions confidently, with excitement. You could tell they loved learning, and they enjoyed knowing so much about the world God had made and the history God was writing.
They knew their math facts inside and out. Their handwriting is beautiful. Their daughter is very disciplined and plays piano with finesse. We just adore their whole family. So when I came to the end of my homeschooling rope last year and started wondering what in the world to do about it, I asked my friend why she used A Beka and what she thought about it.
She told me she used it because her kids used to go to a private school, and when she and her husband contemplated bringing them home to educate them, she felt inadequate and wanted to use something that wouldn't require her to come up with assignments, book lists, curriculum choices for all the subjects, etc. She didn't want to be responsible for actually teaching them, but she wanted to have direct oversight of their Christian education. A Beka fit the bill. She's never tried anything else.
I knew that I could not do school the way I had done it in the past. While I still felt like I was coping out, I decided to try A Beka for one year and see what it was all about. (Read Part One to find out why I was such a curriculum snob.) We've just completed our first two weeks, and here are my initial thoughts:
Pros
1. I loved placing my order last spring, getting everything I needed for all five kids in the mail, setting it aside, and checking that off my "to-do" list. No agonizing choices to make. No deciding if I should do Saxon for this kid – and Math-U-See for those two – and Teaching Textbooks for the oldest one. No bargain shopping for the Living Books I didn't have on the list. No hunting down library books. No copying gazillions of pages in order to save the original grammar workbook to use for 5 more kids down the line. No copying lined paper for all the grade school kids.
It was so simple, I felt guilty.
2. School set up was a cinch.  Aside from making sure we had all the computers we needed (someone from my husband's work had donated several old laptops to us, and Joe had updated the hardware or software or whatever it is you update on a computer), there was no set up. The kids put their books in their desks (yes, we use desks now – we are officially "schoolish." Shoot me.) and I put the 489 teacher's keys and manuals and other such and sundries in a book shelf for easy access. Finding the right one at the right time is a challenge so far, but we'll save that for the Cons section of this post.
3. The daily schedule is completely mapped out for you. You just follow the dotted lines and away you go. The kids get online, sign into their account, and open up that day's video lessons. Each lesson gets a check mark next to it when it has been watched. If you have to get up and eat lunch in the middle of a lesson, it will start up right where you left off. No searching for your place.
No longer do the kids come to me whining about what is next. I'm not in charge. Their teacher is. They observe the other kids in their class listening, singing, writing, participating, and they realize that they are not the only ones "doing school."
All these years they thought they were in prison, and they blamed me. Now they know that everyone is, and it isn't my fault at all. They actually like me now. If they ask me about doing an assignment, I just say, "Well, now – what did your teacher say?" End of discussion. I give them a mommy hug and send them back to their desk.
It's beautiful.

4. The little kids adore their colorful workbooks. I had always heard workbooks were anathema. Even though I had fond memories of them myself, I had heard in homeschooling circles that kids hate them, so I figured times had changed, and I ought to change with them.
But it turns out my kids inherited my love for colorful workbooks with cool, decorated spaces to put your answers. They actually look forward to doing worksheets! Honestly, I don't see the difference anymore between a worksheet and a blank notebook paper on which to do the same problems other than one is pretty and the other is not. This has been a profound discovery for me.
5. The kids drill stuff every day. Phonics. Math facts. Poetry. Famous songs. Bible verses. Great literature. They are all learning important things at their own level. I simply do not have the time (or the sanity) to do that kind of thing with five different children. That alone would take me all day.
The small, daily doses of repetition are making it easy peasy to commit loads of things to memory. I LOVE this. Drilling gets a bad rap, and I'm really not sure why, but I sometimes wonder if getting away from "learning through repetition" is part of why children today know so much less than children 200 years ago.
6. Their handwriting program is stellar. My two oldest kids have rotten handwriting, and not for my lack of trying. A Beka starts them on cursive in KINDERGARTEN! After just two weeks, my kids are showing huge improvement in their handwriting. Is this important in our culture? Maybe not. But most beautiful things are being set aside because pragmatism is the philosophy of the day. Just for the sheer sake of rebelling against this dull, pragmatic culture, I'm excited about the possibility that my kids might have beautiful handwriting when it's all said and done.
7. Their grammar program is also notable. This is another area where we have sort of floundered a bit, so I'm interested to see if it will help us in this subject.
8. The kids are truly enjoying school this year! You would think they would HATE having to "do school" for so long (the older kids spend a good 6 hours or more and the younger ones go from 2 hours (K) to about 4 hours (3rd grade). Our third grader who has rebelled against almost everything "schoolish" in the past, told me the other day, "I'm going to get A Beka for MY KIDS when they get bigger!" I almost choked.
9. My kids each LOVE "their teacher" (the older kids have more than one), and they are FABULOUS. They hold the kids' attention. What can I say?
10. The literature and stories and textbooks all come from a Biblical worldview perspective.

Cons
1. I'm not really saving any time, myself. I'm still on "school duty" from 9:00 a.m. until about 2:00 p.m. as it still requires my time for correcting papers, quizzes, and tests, making sure they each have their correct homework assignments for each subject, listening to the younger children read their books out loud, etc. It has still lifted a burden for me in that I don't have the weight of teaching or evaluating. It's cut and dried, leaving me brain space to deal with other issues that relate to parenting and other responsibilities. So there's a pro in the con!
2. The kids have less free time for goofing around and being creative. Less time. Not "no time." And actually, it HAS kept a couple of the children who tend, when they are bored, to go in a bad direction with attitude, etc. – from going there. So, wow. Another pro in the con! I like this!
3. It is more expensive for us only because we already own a lot of the curricula that we were using before. But if we were starting out with the need to buy everything over, this program would probably cost about the same per year.
4. There are lots and lots and lots of test/quiz books and teacher's keys for every student, for every subject. This was the worst part of the first week – finding my way around all those books. Now if I had started with one student, NO PROBLEM. But I started cold turkey with five students. After two weeks I've got it all figured out and organized on the shelves in a way that makes sense to me and enables me to find exactly what I need without searching for 10 minutes. So I guess this is a con that only lasts for a week or so until the "newbie" figures it all out.
So there you have it. This doesn't mean I will be doing A Beka until the cows come home. When I am an old lady and I've got my last two kiddos at home still – I just may go back to the classical, tutorial style of education that I adore. Or I might do it next year. These are just my knee jerk thoughts after only two weeks of using A Beka online video school. (I needed some fodder for a blog post, what can I say?) I may think differently after the school year is over, and if I do, I'll post an update.
Why look! Here's an update!
UPDATE! After using A Beka for a year,
HERE
are a few of my thoughts.