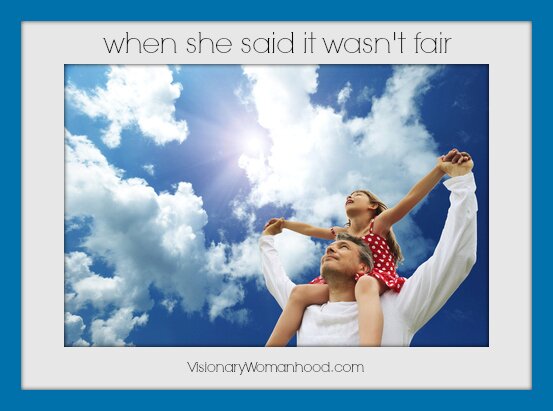 Once upon a time there was a beautiful princess. One day, in a fit of frustration, she muttered under her breath, "It's not fair! Why does So-and-So get away with such-and-such—yet Father never lets me get away with anything!"
Her Father, overhearing her, scooped her up in His arms and said,
"Beloved daughter, run with endurance the race I have set before you. My Son and your Brother, Jesus Christ, is the founder and perfecter of your faith. Remember how He endured the cross and despised the shame because He kept in mind the joy that would one day be His? Now He is seated at My right hand!

Consider Jesus when the hostility or indifference of others overwhelm you. He endured from sinners such hostility against himself, so that you may not grow weary or fainthearted.

My daughter, do not regard my discipline lightly, and don't be weary when I reprove you. Don't you know that I discipline those I love? Those whom I have received into my family? I discipline you so that you may share in My holiness as a true daughter of the King. It is a demonstration of your legitimacy as my heir.

I know that my discipline is unpleasant. I know it is painful. But I promise that it will one day bring forth a peaceful fruit of righteousness for those who will be trained by it. Will you allow yourself to be trained by my discipline?

Therefore, my beautiful, noble daughter, lift your drooping hands and strengthen your weak knees, and make straight paths for your feet, so that what is lame may not be put out of joint but rather be healed. Strive for peace with everyone, and for the holiness without which no one will see the Lord.

Take firm hold of my grace so that no root of bitterness springs up and causes trouble, defiling those around you."
So the princess smiled, her eyes sparkled, and her heart warmed as she recognized her Father's love.
And rested in it.
The Father's exact words to you can be found in Hebrews 12.