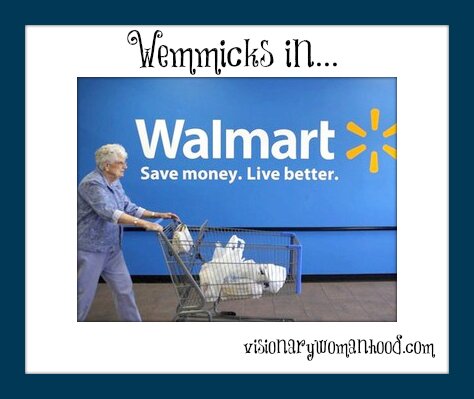 Walmart makes me feel weird. When I heard the hilarious Tim Hawkins crack a joke about how Walmart is like the bar scene in Star Wars, I got it. (And that's sayin' something. Ask anyone who knew me in college. I'm the one who started laughing 10 minutes after every joke.)
You all know I love to think and talk about Wemmicks. So one day I was walking up to the front door of Walmart, watching some odd looking human beings emerge from the building, I got to thinking about the Wemmicks. They are sort of odd, aren't they?
Just take a good, hard look at Punchinello.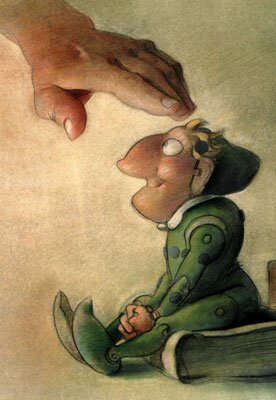 Once I was inside Walmart, now thinking about Wemmicks with all the force of my imagination, I noticed that everyone looked exactly like a Wemmick. And it hit me like a meatball from the sky. Walmart is the world. Almost literally.
My knee jerk reaction is to do what I've been conditioned to do, growing up in Suburbia, USA. Shudder. I don't belong here. I'm better than those dumb, ugly old Wemmicks. I've got to get my apples, bananas, and box of Honey Nut Cheerios—and split. Pronto.
But this time was different. Because now that they were all Wemmicks, I saw them in a different light. A heavenly light. I noticed their eyes. I saw their faces. I looked into their souls. They were real. They had histories. They had mommies and daddies – some bad. Wicked, even. They had dreams. Broken dreams. Some cried themselves to sleep the night before. Some engaged in unspeakable sins. Some did both.
When God looks at the human beings walking through Walmart, He sees in each one individually—a masterpiece of artistry. The Wemmicks are only made of wood. Each one unique and special. How much more a human life with all of their physical complexities, including unique DNA, as well as their personality complexities, unique experiences and giftings?
Suddenly this whispered in my heart, "For God so loved the world…" and three things happened:
1. My heart broke.
2. I saw that I was one of them.
3. And I wanted to be.
This randomly reminds me of the video, Notes from the Tilt-a-Whirl.  Here's the trailer along with a couple of chapter excerpts. If you like the rush of catching your breath because something just literally touched your soul – then take a few moments to watch these.
Trailer
Talking Rocks
Breathing Characters