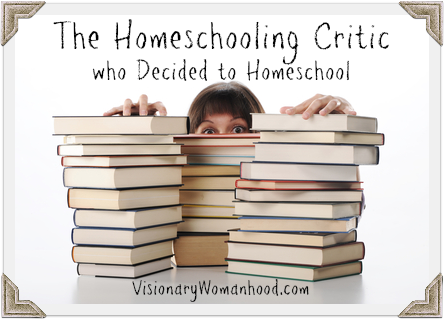 B

y Contributing Writer, Tyanne

It was the only major life decision on which we could not see eye-to-eye before our wedding.  "No way!" I told my husband during our engagement.  After several heated discussions on the topic, we set it aside as "something to pray about," while each of us hoped (and expected) the other would cave.

Homeschooling had never been an option in my mind.  My experience growing up in a small-town public school was ideal, and I looked back on it with great fondness.  How could I want anything less for my children than the same public school opportunities I had been given?

In contrast, homeschooling was the perfect option in my husband's mind.  His experience growing up in a large, suburban public school left a lot to be desired, and he looked at the homeschooling families in his life with great admiration.  How could he want anything less for his children than the same home-based education he so admired?
My Arguments Against Homeschooling
I was willing to concede that homeschooling was a good option for some people, but I was determined to never become one of those people.  When put on the spot by my husband to explain my stance, my answers included all of the following:
I did not want to bear the responsibility of educating my children myself, nor did I believe I was capable.
I did not want my children to lag behind academically.
I did not want to feel at fault for any learning difficulties they may have.
I did not want my children to miss out on school sports and other extracurricular opportunities.
I did not want myself or my children to feel isolated from our community.
I did not want my children to be sheltered from the real world.
I wanted to return to work while my children were in school so that our family could be better off financially.
I did not want to spend 20 or more years of my life at home with my children and never achieve anything greater. (I have dreams, too, you know?!)
I didn't want to be different or raise my children to be different.
I

just

didn't

want

to

 homeschool — the very thought of it made my stomach turn.
At the time, I felt these reasons were more than enough to shut the case for homeschooling in our family.   I can not tell you how my husband responded to my objections because I was not listening to him.  My heart and my mind were so set on getting my way, arguing my case, proving my point — I was unable to make room for his reasoning.
At most I could acknowledge his stubbornness, and I was baffled by it.  There was a fiery feeling of injustice stewing within me as I realized more and more that he was really going to stand his ground on this homeschooling thing.  Still, I held on to hope that his heart would change by the time we actually had school-aged children.
For a long time, every admirable Christian family we knew who chose to enroll their children in public school served as the perfect example to show my husband I really was right.  "See," I would tell him, "their children are so well-adjusted and grounded in faith AND they go to public school!" or, "Did you know the Andersons plan to send their daughter to kindergarten in the Fall?  They're opposed to homeschooling, too."
The Turning Point
"The way of a fool is right in his own eyes, but a wise man listens to advice." Proverbs 12:15
My husband's heart never did change on this issue.  He also never managed to convince me to embrace this idea of homeschooling.  Still, over time, it was my heart and mind that slowly changed, and that fiery feeling of injustice began to fade.
The turning point came when I began to [unintentionally] learn more about homeschooling — when I faced real information about real families doing real education in their homes.  I got to know more families who were homeschooling and loving it.  My interest was sparked, and I was curious enough to let my guard down for a while.
I had been strongly opposed to homeschooling my future children because I lacked accurate information about homeschooling.  I became open to homeschooling as my poorly informed assumptions were confronted with accurate information.  I had placed homeschooling into a tiny box and labeled it "useless" in my mind, when in reality it offered endless possibilities for a lifestyle that fit beautifully with our unique gifts, passions, and priorities.
Reflecting on Poor Decision-Making
"For God has not given us a spirit of fearfulness, but one of power, love, and sound judgment." 2 Timothy 1:7
The more I learned about homeschooling, the more I fell in love with the vision my husband had to homeschool our children someday.  The more in love I fell with this vision, the more aware I became of my own foolishness.  As I look back at how passionate I was to oppose homeschooling, I am disappointed by how easily I reasoned through that time with a worldly perspective and man-centered motives:
Not once did I humble myself and pray for wisdom and guidance in the midst of our debates.
Not once did I open myself to listen to the other side of the issue or yield to my husband's leadership.
I determined what was true based on my own gut feelings, experiences, and perceptions of other people. (This is so dangerous!)
I made assumptions about something I knew absolutely nothing about and used those assumptions to pass judgment.
I was casting vision for my life by answering questions like, "What is everyone else doing? What will benefit me the most? What makes me most comfortable?"
I failed to consider questions like, "What is God calling me to do?  How has God equipped me to do it? What will it take to be obedient to that calling?"
Failing to approach a major life decision with humility and godly priorities led me to proudly reject a path that I now see is the perfect fit for our family.  My journey from homeschooling critic to future home educator has been humbling and at times uncomfortable, but God has used it to teach me a vital lesson on discerning God's will for my family and the dangers of a mind clouded by pride, ignorance, and fear.      
Moving Forward with Confidence
It has been at least five years since our last hot-headed debate on homeschooling.  Over time, my attitude toward this decision has changed so dramatically that I find my own passion for educating my children exceeds that of my husband, and I regularly learn something more about homeschooling that affirms my belief it is right for our family.  I will begin working through preschool-level material with our first guinea pig child next year, and I love knowing I will have the privilege to be his first teacher.
As I review the list of reasons I never wanted to homeschool (above), I am now able to confidently correct each of them with accurate information, biblical rebuke of my own selfishness, and priorities that flow out of my faith in Christ rather than my worldly comforts.  Though fear and doubt sometimes creep in when I consider the weight of this commitment on my life, God has given me wisdom and peace to overcome those thoughts.
Within the last year, I have finally come to a place where I can tell others, "We plan to homeschool our children," without hesitation.  I can share this and feel confident that it is not something I have been forced into against my better judgment or resorted to because I did not like the other options, but because I really, truly believe homeschooling is the best possible option for my family.
My Hope for Others
I know not all Christian families come to the same conclusion we have in how to educate our children, nor do I expect it to be the right decision for every family.  I do hope, however, that all Christian families come to their decision after careful consideration of accurate information, godly goals and priorities, and the guidance of the Holy Spirit.
If you have decided to homeschool, my hope is that you arrived at that conclusion with wisdom and godly reasoning.
If you have decided not to homeschool, my same hope is that you arrived at that conclusion with wisdom and godly reasoning.
In all things — whether choosing an educational path, a local church, a career, or even a spouse — may we not be people who make decisions based largely on limited experience, personal bias, and gut feelings.  Instead, may we truly strive to do all things in the name of the Lord with intention and sound judgment.