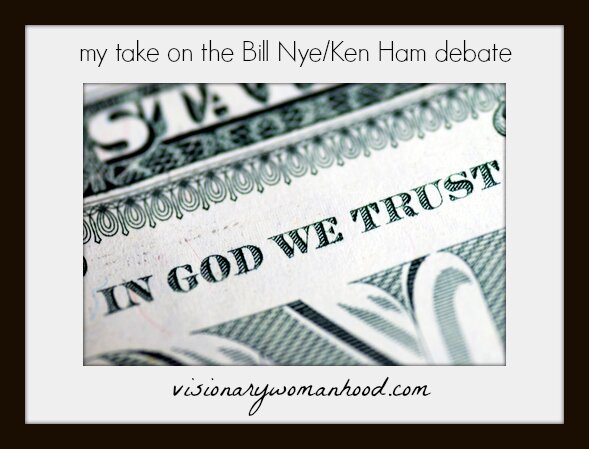 Bill Nye the Science Guy! We checked out his videos from the library all the time when my boys were little (15 years ago!) and learned so much from them. But he rejects his Creator, and that's tragic. It may appear to the secular world that this ignorance of the Creator actually helps advance science, but the truth is (whether it sounds plausible and "wise" or not) that it hinders the advancement of science. Maybe one day we'll get to find out how. In the meantime we do know this:
For the foolishness of God is wiser than men, and the weakness of God is stronger than men. (I Cor. 1:25)
I did not have time to watch the debate. I've read some commentary, both from a Christian standpoint as well as a secular standpoint, so may I say a few things in knee jerk reaction?
I'm glad the debate took place. Paul took a stand in the public forum in Greece. Christians should take their place there as well. Our "ideas" (as they might call them – really God's little "ideas" after all – no biggie) are just as valid as anyone else's, and they ought to be represented.
But the premise of our argument is God. There is a Creator. That's where we start – and we build from there. So while it's good to have the discussion, we also have to recognize that if the premise is totally different on each side, there will never be a meeting of minds. Ever.
On one side you have a little ignorant Wemmick pointing to the hill where the Woodcarver lives and saying, "He made us! No! Really! He did!" On the other side you have a little ignorant Wemmick pointing to the…well…jeepers, he's not pointing to anything I guess, saying, "We are a cosmic accident with no purpose or meaning other than what we make of our brief existence on this accidental planet in an accidental universe! No! Really! We all come from nothing!"
Neither one really knows FOR SURE, for sure. Do they? Not really. We don't know FOR SURE, for sure until we leave this planet. Then we get to find out which ignorant Wemmick – both putting their faith in a theory – was right.
The Bill Nye Way
So let's think about this. Since Bill Nye is into "hypothetical," let's play that game for a minute. Let's say – hypothetically – that Bill Nye the Wemmick Guy is right. We come from nothing. There is no Mind behind us. No Intelligence behind the billions – no – kajillions of complexities that make up planet earth (not to mention the universe).
In that case, there is no reason behind our existence. There is no point of you or me. Who cares if we live or die? Who cares if we are noble or depraved? Who cares if we love or hate? I mean, people DO care – but why? They have no reason to under this theory. And some actually live consistently with their worldview and don't. (Bill Nye, by the way, does not live consistently with his worldview. He's a nice chap who desires to do good in this world with his life. He tries to live by a Christian worldview while intellectually subscribing to something else.)
If he's right—when we all die, we all rot. No matter what we believed. End of story.
The Creator Way
Let's say now – hypothetically, of course – that the other ignorant Wemmick is right. Someone did make the Universe. Someone bigger than us is "out there." Watching us. There is a reason for our existence. We were born with meaning and purpose. We have destiny. When we were created, we were created for something beyond anything we could understand with finite minds. We were created for eternity.
Let's just say the Bible really IS the book that Creator had written up to tell us about Himself. Let's say that the Wemmicks who read God's book and believe it and live by it are on the right track. They aren't the fools, after all.
If he's right—when we all die, those that believed get to be with the One they believed forever. Beginning of new story. Eternal story. Destiny.
Those who didn't, don't. End of story. Again.
So let's summarize.
If Bill's belief system (faith in nothing) is wrong, he's done for when he dies. If Bill's belief system is right, he's done for when he dies.
If the other Wemmick's belief system (faith in a Creator) is wrong, he's done for when he dies. If the other Wemmick's belief system is right, he's got a future and a hope.
Jeepers. From where I'm standing, I'd say the faith of the other Wemmick is more strategically placed.
I'll roll the dice, look at the incredible world around me, and place my bets on a Creator. How about you?