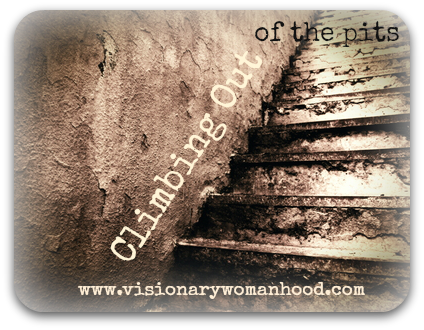 W

ritten by Natalie, Editress of Visionary Womanhood

When we are in the deepest pits of pain, writhing inside, trying to get away from it – all the while knowing that there is no escape…

…it is almost impossible to do anything for ourselves.

In the initial shock of a life-shaking event, our adrenaline kicks in, and we do what needs doing in a state of numbness.  But that wears off.  It is common for a grieving person to lose all enjoyment of life.  The small things that used to bring pleasure mean nothing now.

It is hard to get motivated to DO anything; and yet, there are some things that we CAN do, with God's help, that will eventually bring us, step by step, out of the pit.
1. LEARN – the Secret to Peace in Pain
"…for I have learned in whatever situation I am to be content. I know how to be brought low, and I know how to abound. In any and every circumstance, I have learned the secret of facing plenty and hunger, abundance and need. I can do all things through him who strengthens me." (Philippians 4:11-13)
We can do some things through Him?  Easy things through Him?  He strengthens us in good things?  No.  We can do ALL things through Him Who strengthens us.  Regardless of whether or not we believe that…it is true.  Regardless of the seemings, God has promised to strengthen us for this moment.  Not for tomorrow.  Not for tonight.  His grace is found in the present. 
"THE LORD IS AT HAND; do not be anxious about anything, but in everything by prayer and supplication with thanksgiving let your requests be made known to God.  And the peace of God, which surpasses all understanding, will guard your hearts and your minds in Christ Jesus." (Philippians 4:5-7)
I never noticed those first five words before this week.  They explain WHY we don't need to be anxious.  Our Father is at hand!  We may have lost a parent, a child, a friend, a husband, a job, or a dream.  But we can never lose Him. He is at hand.  And He will sit with us in the pit and then eventually take us by the hand and walk with us, step by slow step, up and out.
You'll be tempted to push Him away.  Don't.  He is your one Hope.
2. LISTEN – to God's Voice
Once you have taken that step of laying your head on His shoulder in acceptance, you are ready to hear what He has to say.  He is not silent.  His Word is a healing balm of truth; always ready to speak comfort, hope, and truth to your heart.
When we are suffering we are vulnerable to lies.  We tell ourselves lies about what has happened.  Our culture tells us lies about God.  We can't see the spiritual side of what is going on when we are immersed in lies.  The way out of that confusing maze is truth. 
That truth is found in God's Word.  You'll be tempted to avoid reading it.  Pain can be blinding.  Ask mature Christians you know to pray daily – hourly for you.  And then TAKE the strength that God provides to reach for the Word.  The more you marinate in His Truth, the stronger you will become.  Stronger to take the next step.
3. LISTEN – to Music
Music is a powerful tool for healing.  Music is spiritual.  There are so many wonderful worship albums to play throughout the day.  There are also many songs written by godly, talented music artists that are all about suffering and trusting.  Music can have an uplifting affect on your spirit that can make the difference between staying in the pit – and climbing out.  God will use it to help you take the next step.
4. LISTEN – to Sermons on Suffering
In the car, while you wash the dishes, when you are laying in bed and can't get out.  Hook up an IV of truth into your spirit and let the healing pour in.  Some excellent ones can be found HERE  and HERE.
5. READ – Good Books
When you are in the pits, you really want to share the experience with another Wemmick.  There are some excellent books written by men and women who have experienced all kinds of hellish pits and have written of their journey from pain to healing through trust in God.
Some books to start with:
Suffering and the Sovereignty of God by John Piper and Justin Taylor
Trusting God Even When Life Hurts by Jerry Bridges
A Grace Disguised: How the Soul Grows Through Loss by Jerry Sittser
Making Sense of Life by Seeing the World From Heaven's View: God Bringing His Children to Glory by T.W. Hunt and MelanaHunt Monroe.
When God Weeps by  Joni Eareckson Tada
Affliction by Edith Schaeffer
A Grief Observed and The Problem of Pain both by C.S. Lewis
Disappointment with God and Where is God When it Hurts both by Phillip Yancy
If God is Good: Faith in the Midst of Suffering and Evil by Randy Alcorn
The Rare Jewel of Christian Contentment by Jeremiah Burroughs
And here's some good fiction that has comforted and boosted me out of many a pit (I've read these several times over at different points in my life):
Stepping Heavenward and The Home at Greylock both by Elizabeth Prentiss
(Incidentally, I love anything written by Elizabeth Prentiss.  One of the most life changing books I've ever read is her biography: More Love to Thee: The Life and Letters of Elizabeth Prentiss by George Lewis Prentiss)
Hind's Feet on High Places by Hannah Hurnard
6. Talk – to God – and even Wemmicks
"Let your requests be made known to God."  You want your children to tell you everything, right?  God is like that, only more so.  He is always watching.  Always listening.
Do unburden yourself to Wemmicks.  We are to "bear one another's burdens." (Galatians 6:2)  We are to "weep with those who weep." (Romans 12:15)  Just keep in mind that they will not always "get it."  God always does.  They will not always be there.  God is.  Their wisdom will fail.  God's Word never fails.
You are safe with Him.  He loves you.  He is at the end of your life even now.  He knows how your story goes.  He wrote it, and these plot twists and turns are the very reason you were created!  
  Trust the Author.
There is light at the top of the stairs.
And the story ends well.