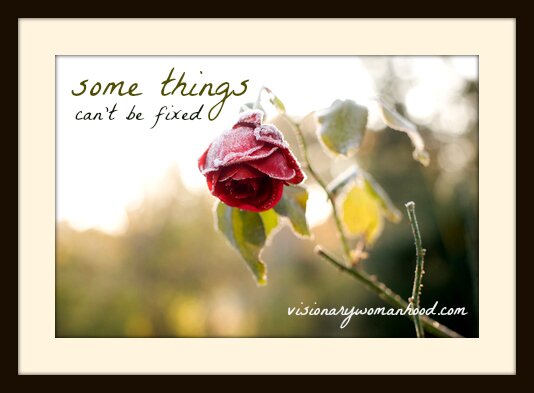 Sometimes we cry out to God in what seems to be a vacuum. We cry. Then silence. That almost always happens when we cry and walk away. It's like a one sided conversation, but mainly because we didn't stick around to hear a response.
Sometimes we cry out to God and are blown away with a response that is so clear and pointed, we are left with our jaws on the floor. That happened to me yesterday morning. I have a situation in my life that can't be fixed, from a human standpoint. Paul had a "thorn in the flesh." Something he couldn't fix. So this isn't an odd, unusual situation. In fact, I'm fairly certain most people have something that is "unchangeable" in their lives.
So how do we live with that tension between wanting so badly for what we know would be good and beautiful—and what the reality of our situation is—something bad and ugly?
Yesterday morning I was literally on my knees—no—on my face before God, begging, begging, BEGGING for mercy. I didn't know what else to pray at that point. I've been praying for this for almost half my life because it seems like the kind of thing one should be asking for. Yet there are no breakthroughs. No resolution. No relief.
I was simply saying over and over, in tears, "God, have mercy on me. Oh, dear God – please have mercy on me. Have mercy. What else can I say? I don't know what to pray anymore. Can You hear me? Do You see me?"
The morning routine was calling my name at that point, and I felt the pull. I picked myself off the bedroom floor and saw my Bible on the nightstand. I was out of time, but I also knew that God speaks through that Book, and I didn't want to miss anything—if He had anything to say to me in that moment.
I have spent many large portions of my life living in the Psalms, and this past year was a big "Psalm" year for me. My bookmark was in the place I had left off the day before, so I opened it up thinking to get a quick injection of hope from the next Psalm. It was the 116th, and here's what I read:
I love the Lord, because he has heard my voice and my pleas for mercy. Because he inclined his ear to me, therefore I will call on him as long as I live.

The snares of death encompassed me; the pangs of Sheol laid hold on me; I suffered distress and anguish. Then I called on the name of the Lord: "O Lord, I pray, deliver my soul!" Gracious is the Lord, and righteous; our God is merciful. The Lord preserves the simple; when I was brought low, he saved me. Return, O my soul, to your rest; for the Lord has dealt bountifully with you. For you have delivered my soul from death, my eyes from tears, my feet from stumbling; I will walk before the Lord in the land of the living. I believed, even when I spoke: "I am greatly afflicted"; I said in my alarm, "All mankind are liars." What shall I render to the Lord for all his benefits to me? I will lift up the cup of salvation and call on the name of the Lord, I will pay my vows to the Lord in the presence of all his people. Precious in the sight of the Lord is the death of his saints. O Lord, I am your servant; I am your servant, the son of your maidservant. You have loosed my bonds. I will offer to you the sacrifice of thanksgiving and call on the name of the Lord. I will pay my vows to the Lord in the presence of all his people, in the courts of the house of the Lord, in your midst, O Jerusalem. Praise the Lord!
I love Him. I love Him. I love Him. I am His, and He is mine. Some things can't be fixed. And some things will never change. Praise His Holy Name.