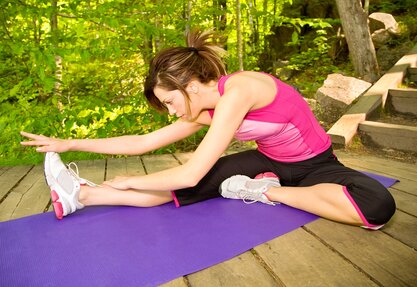 B

y Natalie, Editress of Visionary Womanhood
Paying the Price
I've never really struggled with my weight.  Oh sure, after a pregnancy I need to lose some serious poundage, but by the time each of my nine babies were one, I was back to my pre-pregnancy weight of 125 pounds.  Nothing to complain about, and I'm not complaining.
I spent almost two years of my life on bedrest between the ages of 27-36.  In between those four rough pregnancies I did not feel like I had time to get my body back in shape, so while I lost the weight, I became weaker, physically, with each pregnancy.  With the next five pregnancies I did not need bedrest, but they still took a toll on my body, and again, I did not work at building up my muscle tone and strength in between pregnancies.
After giving birth a year ago, at age 45, to my ninth baby, I realized I was in a world of hurt.  Six months postpartum I was still in dire pain when walking through the grocery store.  My hips click when I roll over in bed.  I started seeing a chiropractor who said I have literally NO muscle in my groin area.  It's gone.  I indulged myself by not choosing to be disciplined in this area, and now it's time to pay the piper. (I just recently discovered that my condition has a name: pubis-symphysis dysfunction.)
A Small Investment with Big Dividends
As I look ahead to the next half of my life, I want to be able to have the strength and energy to enjoy my family in more active ways.  This means I need to buckle down and get serious about exercising.  In November I began stretching every single morning.  I stretch my back, neck, legs, arms, and hips.  I also do leg lifts.  When I first started, I could hardly lift my leg off the floor, and while it is slow going and still painful, I can now lift it more easily and for more repetitions.
I'm adding in a program now called T-Tapp.  It is perfect for someone who has a limited amount of time to invest in exercising. Fifteen minutes, four days a week is all it takes.  I bought the book first, but didn't really find it helpful.  Then I bought the Basic Workout Plus DVD, and found exactly what I was looking for.  (I need to see the exercises performed in order to learn them.)  T-Tapp targets and strengthens your core.
I also bought a rebounder at Walmart so I can do 5 minutes of jumping here and there throughout the day.  Here's why:
Benefits of Short Burst Exercises
1. Releases Human Growth Hormone
Children have oodles of HGH coursing through their system, and body builders and others will pay a lot of money to get bio-identical HGH injections.  But did you know you can make your own?  How?  Through short, intense periods of exercise as well as periods of deep sleep.  (The authors of Trim, Healthy Mama also recommend sex with your husband.)
HGH gets rid of fat, promotes beautiful, healthy skin, and can make you look 10 years younger.  Who wouldn't want more of THAT?
2. Burns Fat
The aerobic hysteria of the eighties has proven to be ineffective at burning fat.  Here's how Serene Allison and Pearl Barrett put it in their book, Trim Healthy Mama:
Aerobic activity allows your body to adapt.  Once this happens, your body will burn fewer and fewer total calories.  Your body has been programmed to do this.  Short bursts of intensity keep your body in guess mode.

The second problem is that because of the adaptation process that occurs in the so-called "fat-burning zone," your body will actually start to store fat.  This is your body's preservation mechanism.  Our bodies are incredibly equipped to survive and storage is one form of survival to help us through the lean times. (pg. 552)
3. Targets Fast Twitch Muscle Fibers
Cardio exercise uses mostly slow twitch muscle fibers and not enough fast twitch muscle fibers.  It's the fast twitch fibers that give you firm muscles and quick results.

Training these fast twitch muscle fibers reverses the aging process, because these muscles are the first to deteriorate as we age.  This is due to the fact that neurons stop communicating with them.  Lucky for us, we can greatly increase firing rates after only one week of anaerobic training.

Studies and data back this up.  It's sad how many people are slogging it out at the gym on their treadmills and bicycles when they could be taking much less time and getting better results by doing intense, short-burst training.  (Trim, Healthy Mama pg. 553)
 How to Tell if You Have the Right Conditions
To ensure that you are releasing HGH you'll want to look for the following, according to Allison and Barrett:
Out of breath
Muscle burn
Increased body temp
Adrenal response (slightly painful)
They go on to share some other nutritional aspects to exercising.  (I didn't know there were certain things you should eat and not eat related to this subject.  I recommend their book for more information…or Google is good for learning stuff too.)
I recently did a book review of Trim, Healthy Mama over at Keeper of the Home if you are interested in learning more.
If you are young and full of energy, ready to take on the world, I recommend exercising.  If you are old and broken down, like me, I recommend exercising.
And that's all I have to say about that.