A couple of months ago I wrote a post over at Keeper of the Home with tips on how to increase productivity.  The first tip I shared was the most important: spend time at the feet of Jesus each day.  To avail ourselves of the Wisdom of the Creator is always going to be the best start to any day.  Sound a little like Mary?
The rest of the post was all about being productive.  Sound a little like Martha?
It sparked a little discussion over which one was best.
So…which one WAS the best?
Because, I mean, we all want to be THE BEST…right?  So, should we be a bunch of little Marthas running around getting everything done?  Or should we be a bunch of little Marys having devotions 24/7 and letting the house go to pot?
Some Wemmicks would argue that we should all be more like Mary, because she was praised by Jesus for choosing "the good portion".  If the laundry doesn't get done, the house smells a bit funny, and dinner is cereal again, that's OK, as long as we spent the live long day reading the first 15 books of the Bible and singing through 7 Praise and Worship CDs.  DH will understand.
Other Wemmicks would argue that they have zero time for the study of God's Word and prayer, because they are coordinating the women's spring retreat, making 3 meals for shut ins, teaching their 13 children, mentoring another young mom, and practicing for that week end's choir concert at church.  Gotta make sure we keep God happy and get those extra Brownie points.
What Does the Bible Say?
We can find the story of our theme in Luke 10:38-42.
Now as they went on their way, Jesus entered a village. And a woman named Martha welcomed him into her house. And she had a sister called Mary, who sat at the Lord's feet and listened to his teaching. But Martha was distracted with much serving. And she went up to him and said, "Lord, do you not care that my sister has left me to serve alone? Tell her then to help me." But the Lord answered her, "Martha, Martha, you are anxious and troubled about many things, but one thing is necessary. Mary has chosen the good portion, which will not be taken away from her."
Martha is described as "distracted", "anxious", and "troubled".  Why?  "…with much serving."  We see right into her heart attitude by what she says next.  You can almost hear the self-pitying whine in her voice:
"Lord, do You not care...?"  She accuses God of not caring.
"…my sister has left me…" She is angry at her sister and accuses her of purposefully "leaving" her to do all the work alone while she just sits around looking spiritual.  (Can't you just hear her thoughts?  I'm reading into this a bit…but I think we've all been in Martha's shoes a time or two…and it all sounds so eerily familiar…)
"…to serve alone…" She feels sorry for her poor, little, lonely, hardworking SELF.
"Tell her then to help me."  She demands petulantly.
So what do we have here?  A kind spirited, hard working woman, serving Christ and His disciples with a joy-filled, love-saturated attitude of sweetness?  I don't think so.
Jesus did not gently rebuke Martha for serving.  He rebuked her for her heart attitude.  And He corrected her misinterpretation of Mary's "sitting around".  He wanted Martha to see what He could see.  Mary's heart was not about being lazy…it was all about Jesus.
Martha's heart, on the other hand, was all about…Martha.  And THAT was the problem. 
So, what can we learn from this?
I've heard a lot of Wemmicks say that this story is all about how to be more like Mary and less like Martha.  And it is.  But what some of them are really saying is that working hard in service to those around us is a big 'ole BAD…and being cloistered in a nunnery contemplating belly button fuzz while meditating is the epitome of true spirituality.  Can you see the pendulum swinging way over there?
We've just discovered that is NOT what the passage is saying.
In fact, there are countless other passages in the Word of God that address the issue of hard work, how we manage time, serving others selflessly, putting the talents God has given us to good use, pouring out our lives as living sacrifices and so on.  You can't make a biblical case for sitting around and being a sluggard.  (If you can, I'd love to hear it.)
BUT…there are some Wemmicks (we call them "Type A's", and I would fall into this category), who will grab hold of that pendulum and swing it WAAAAAAAYYYYY over in the other direction.  We're the ones spinning 365 plates while standing on our heads, chewing bubble gum, and singing the Star Spangled Banner.  We're the ones getting irritated by "everyone else" just sitting around doing "nothing" while we "make the world go round."
We're the bossy, self-pitying, high achievers getting burnt out, angry, and depressed because we feel like we've got to do our part…and everyone else's too.  Not pretty, is it?
God's ways are not like a pendulum
They are balanced, healthy, and wholesome.  Designed to fulfill us, satisfy us, and bring us great joy, satisfaction, and peace in life.  So where's the balance here between Martha and Mary?
Whatever you do, work heartily, as for the Lord and not for men knowing that from the Lord you will receive the inheritance as your reward. You are serving the Lord Christ.  Colossians 3:23-24

Therefore, my beloved brothers, be steadfast, immovable, always abounding in the work of the Lord, knowing that in the Lord your labor is not in vain. I Corinthians 15:58

Look carefully then how you walk, not as unwise but as wise, making the best use of the time, because the days are evil. Therefore do not be foolish, but understand what the will of the Lord is. Ephesians 5:15-17
We can see from these verses (and if you look up the word "work" in your concordance and do a little study, you will find over 1000 references to that word in the Bible), that working is a pretty important part of our Christian life.  It is how we fulfill the purpose for which God created us. It is how we accomplish the Great Commission.
One of the interesting things about the Reformation is that Christians began realizing how extreme and unbiblical it was to "leave" the world of hard work and the patient efforts of dealing with other people…and instead cloister oneself off for the sole purpose of meditation and study.  They saw the pendulum swinging over in left field and sought to correct it.
Thank goodness they did.  If it wasn't for the unflappable, no-nonsense "Puritan work ethic", America would likely have never been birthed.  Cultures are not created without a bit of elbow grease.  The Great Commission is not accomplished without vision, sacrifice, and yes, hard work.  The next generation of leaders will only be raised by women unafraid of getting dirty down on their hands and knees and doing what needs doing.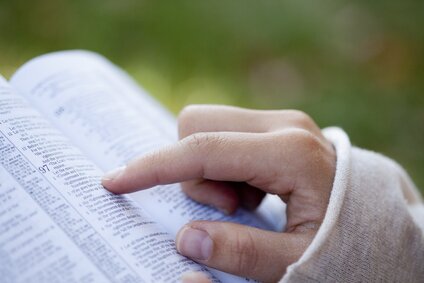 On the other hand…
I am the vine; you are the branches. Whoever abides in me and I in him, he it is that bears much fruit, for apart from me you can do nothing.  John 15:5

Blessed is the man who walks not in the counsel of the wicked, nor stands in the way of sinners, nor sits in the seat of scoffers; but his delight is in the law of the Lord, and on his law he meditates day and night. Psalm 1

Pray without ceasing…   I Thessalonians 5:17
From these verses (and there are hundreds more like them), we find that we need to be meditating on God's Word, praying, and abiding in Christ all the time.  How else will we learn to truly know and love our Creator?  How else will we understand His will for our lives and for how we invest our time?
Don't have time to abide?  Martin Luther, one of the most productive Christian heroes of all history had this to say,
If I fail to spend two hours in prayer each morning, the devil gets the victory through the day. I have so much business I cannot get on without spending three hours daily in prayer.
The Bottom Line
Jesus loved both Martha and Mary.  They had two different bents.  Two different personalities.  One was naturally inclined toward working.  One was naturally inclined toward learning.  Both are good and necessary things.  Martha was not rebuked for working.  She was rebuked for having a rotten attitude toward her work and her sister.
I like to ask my children, when they sin, "How could you have played that scenario out differently?"  If I were to play out the "Marth/Mary" scenario differently, Martha might have relaxed a bit, sat at the feet of Jesus while He was teaching them, and then gently suggested to Mary, "How about if we go put some food together for these gentlemen now?"
Let's strive for that beautiful, Biblical balance between faithfully carrying out our daily duties while at the same time being filled with the Holy Spirit through meditation on His Word, prayer, and thanksgiving.  Then, and only then, will we truly fulfill the purpose for which God created us.  Only then will we be able to reflect the True Glory of our Great, Living, and Reigning King Jesus.