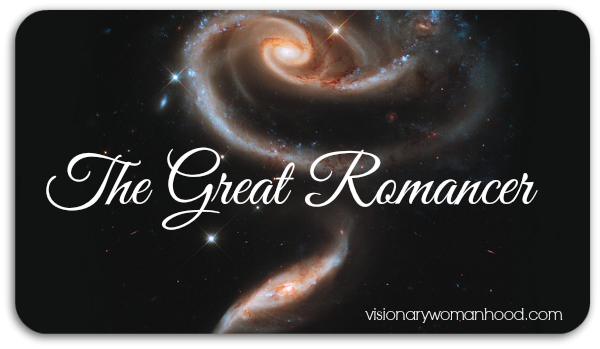 (Photograph taken from the Hubble space telescope.)
The Great Romancer
From Tongue of fire wild story spun;
Abandoned joy and laughter pounding round.
Birth of color splashing toward the Son,
Spilling generous over new world found.
Enter left slips quiet poison lie;
Warm and glowing life flickers, chills.
Wakens deep and dark desire sly,
Cold and hardened heart now blindly kills.
Searching solitary soul now wanders;
Ache and angst and never-ending endless.
Lover lost and lonely with no Author,
Ashen blast of fury, numb and airless.
Enter right the Laughing Great Romancer.
Author of beginning, middle, end.
Breathing fervid mystery, awakens;
Sabotages base, ignoble death.
Filling space the Holy Great Romancer,
Satiates and satisfies the heart.
Rushing freedom, full transporting rapture,
Woven love, completing work of art.
Happy Valentine's Day to the Lover of my soul—and to my dear sisters here. May we all revel and rest in Him. ~Natalie