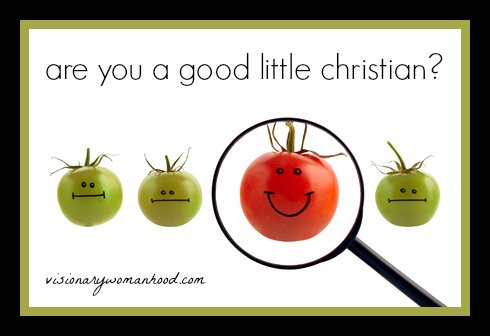 In a recent reader survey, I asked the question, What is one thing you would change about Visionary Womanhood? One of the answers jumped out at me and got my mind and heart stirring. It brought up such a major issue in my personal life – so I want to talk about it a little bit because I don't think I'm the only one who has been confused about this.
Here's the answer:
I really enjoy your blog, however, I feel that you are beginning to lean too far towards antinomianism, with too much emphasis on "authenticity" etc. I do not not believe you are totally on board with this, but in the last month or so, it has started to sound like you are. I hope that is not your intent.
I think the first thing we need to do is define our terms. What is antinomianism? Dictionary.com defines it this way:
Antinomianism: a person who maintains that Christians are freed from the moral law by virtue of grace as set forth in the gospel.
I take that to mean, in practical (and very simple, I realize) terms, that since I am a Christian, and I've got my ticket to heaven, I can live however I want. The only thing that matters is that I'm trusting Jesus to save my sinful little hide.
How about an example of how this bears out, practically, in real life? Years ago I knew of a Christian engaged couple  fornicating and openly admitting it, saying "God's grace covers all sin – so even if we are sinning – it's all good." They were gently corrected and shown a better way, and to my knowledge, they responded with humility.
So let's look at fornication for example. It's blatantly forbidden in several places in Scripture, and there are tragic, natural consequences that play out in relationships when we dismiss this moral law. We see examples of this throughout the Bible. It's one of the Top Ten for, I'm guessing, a few good reasons.
In other words, fornication is one of the "black and whites" of the Bible. When we behave like animals with a person of the same sex, God calls it sodomy. With another animal? Bestiality. When we kill another person made in the image of God, we murder. Lying is "bearing false witness." Never good for building healthy, happy relationships.
And then there are ones that we Wemmicks call "nice sins" but that are similarly destructive to our lives and relationships. What about half-truths? Exaggeration? Gossip and slander of others? Refusal to take responsibility for our own "stuff?" What about secretly looking down on someone in our hearts? See? None of us is exempt from violating moral law. We all sin multiple times every single day.
But if a person subscribes to antinomianism, they believe that violating Scriptural moral law is not an issue for the Christian. Grace covers it, by George – so no worries. Along with their common sense, they also discard Romans 6:1, "What shall we say then? Are we to continue in sin that grace may increase? May it never be! How shall we who died to sin still live in it?"
It's sort of like, "Thank you JESUS for shedding Your blood so I am free to look at porn with impunity! It's QUITE A DEAL, and by golly, I appreciate that! Nobody can accuse ME of not being grateful! Pass me my computer."
So, all of that to say that, no, I do not subscribe to antinomianism. I do not believe that Jesus set us free from living according to God's moral law. He fulfilled that moral law and took our punishment for violating it. But that doesn't mean Christians can dismiss it. To obey it is to live in freedom and joy within its loving boundaries. It's like saying that Jesus jumped over the cliff so we could jump over the cliff too. No. He jumped over the cliff so we could safely stay on the mountain.
The word "authenticity" was used in relation to antinomianism. I'm not exactly sure what she was getting at there, but I thought we should look at what "authentic" means -and talk about whether or not that is a good thing.
According to the Merriam-Webster dictionary:
Authentic: real or genuine : not copied or false : true and accurate.
That sounds like Jesus to me. That sounds like God's Word. That sounds like something a healthy Christian would desire to be. I sincerely hope that we are all pursuing authenticity in our relationships and responsibilities.
Could the confusion lie in the fact that sometimes we think if the world takes a word and uses it – that it no longer belongs to God? I say – take the word back. It means what it means. Just because psychology uses that word a lot (it is a good word, after all) doesn't then make it forbidden to believers. We, of all Wemmicks, should be using good words MORE – don't you think?
To wrap this up, I'd like to take a stab at what I THINK this reader meant when she said she thought I might be straying too far into the fields of antinomianism. Because I think I know what she was really getting at.
About six years ago I got a letter from someone close to me which basically informed me that I was a judgmental, arrogant, insensitive, rude person. I was a month away from giving birth to my seventh child, and I had had two miscarriages the year before – so I was already a basket case. I didn't sleep for three days and three nights. I think I cried almost non-stop. I was devastated.
Many of the things in the letter were misinterpretations of things that had happened, and I knew nothing I could say would clear those things up. Other things were true! Though I thought I did a good job of hiding my superior attitude toward others, the ones closest to me could see right through my facade.
The fact is – I WAS judgmental. I WAS arrogant. I WAS insensitive. And, at times, I WAS rude. Part of my angst was having to face the monster inside, and it wasn't pretty.
This post is getting too long, and as I'm writing, I'm realizing there is so much more to share about this, so I'll make this a two-poster post. Go HERE if you want to know what had to happen in order to slay this dragon. It put up a big, five-year fight. There was blood – oh yes.
And in some ways, I'm still fighting.