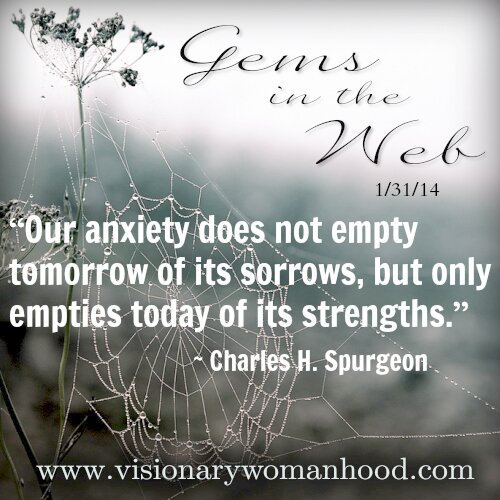 And then I think back to that job in network administration, to the grumbling and discouragement, and in retrospect, and upon further reflection, I have to own my guilt in it. What I see more than anything, and what concerns me more than anything, was my utter lack of joy in what I was doing. I fully believe that job was my calling, my vocation, at that time in life, and yet I did it without any passion, any drive. I did it without any joy. I failed at my calling in that time and in that place. I deserved to be laid off!
But the job wasn't the problem. I was the problem because I refused to attach any significance to the work I was doing.
Read the rest of Work That Makes a Difference by Tim Challies. (I really loved this one as it applied to homemaking.)
---
"…men need to pursue. And I know that's a scary thought for a lot of men, but you ain't seen scared until you've tried being a woman waiting on a scaredy cat to make a move."
Read the rest of Singleness and Handling a Trivial Pursuit by Jasmine Baucham.
---
"Someone recently told me that he had finally and reluctantly decided to go to the doctor about his painful and debilitating depression and ask about going on meds. I knew this person had tried every other spiritual and commonsense remedy but was simply not getting better.

With his permission, here's the advice I gave him plus another few points I've thought of since. Perhaps it will help others in a similar situation:"
Read the rest of "I'm Thinking of Going to the Doctor for Depression Meds" by David Murray
---
I have dark pools under my eyes. A valley where my belly button once was. Hips with a new amplitude that my teenage self wouldn't recognize. I have lines mapped across the mountains of stretched skin left over on my midsection. Lightening bolts on my sides proving I once was too small to contain all of the love that filled me. Lines indicating that my daughter once lived inside of me.

Do you realize the significance in that? Every limb, finger, toe…her heart, even, developed near the very place my own heart beats inside of my chest. Those mountains of skin are all I have left to prove that we were once one and not two.

How can I be ashamed of that?
Read the rest of Babies Ruin Bodies on We Seek Joy.
---
Online Schools is your comprehensive introduction to the online education universe. Our profiles address every stage of online learning, from K-12 to graduate school, and feature the most current assessment of degrees and schools available.
Check out OnLineSchools.org with a huge data base to aid you in searching for online education options from kindergarten to grad school.
---
And now I leave you with a smile:
Mother's Day Tribute – Girl on Fire from People's Church on Vimeo.