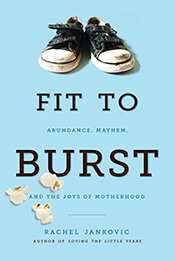 B

y Natalie, Editress of Visionary Womanhood

A couple of years ago I read Rachel's first book, Loving the Little Years, and fell in love. It made me laugh AND cry. And isn't that the best feeling in the whole wide world?

My niece, Christa Blakey, who lives in the same town and KNOWS Rachel, is working for Cannon Press this summer, and she asked me if I'd want to review Rachel's second book, Fit to Burst, and give away a free copy to a reader.

Fit to burst?

I was.
What I Love
1. The length. It's perfect for a busy mom who only has brief snippets of time in her life to read anything. ANY mom can read this entire book and feel a sense of accomplishment. Hey, this is important.
2. The chapters each pack a profound punch in a short amount of space. When I felt fit to burst, I could grab a 10 minute time out, run to the bathroom and pretend I had to go BAD, lock the door, and get a dose of super charged encouragement before facing the next toddler – or hormonal female teen – melt down.
3. Rachel is a gifted thinker and writer. She's funny too. Her dad is Douglas Wilson who wrote one of the best books on writing I've ever read – and a lot of other good stuff I happen to love and agree with. Her brother is Nate Wilson who also thinks and writes in quirky, awesome ways. Her mom is Nancy Wilson who wrote lots of helpful books for women. It's like the dream family. If you haven't discovered the Femina blog – you really need to check that out. The whole female Wilson progeny participates over there.
4. Each chapter is a topic of its own. Nothing builds on anything else, so you can read one chapter in a sitting – even if that sitting is two months later than the last sitting – and not "miss" anything due to foggy mommy brain. And actually that's an extra bonus too. You can probably read this book over and over again during the course of your mommyhood and always glean something new from it.
5. Her two little books combined would make a PERFECT and TASTEFUL baby gift for a mom who is expecting her second or third child and needs another baby sleeper like she needs a hole in her head. She'll thank you – and remember your thoughtfulness for years to come.
What I Don't Love
Nothing. You read that right. I don't love nothing.
Favorite Quotes
The book has so many good thoughts smooshed between its pages, and here are a few to yank your jaw to the floor.
On the Story of Our Lives
"Our lives do not culminate in a moment. We should not be hoping for one great photo shoot, because that is not what God is doing with us. Our lives are a story—they are interwoven with the next generation in a way that is impossible for us to understand. Getting our sense of achievement and satisfaction out of cheerfully performing the tasks that are asked of us can do nothing but good in our lives."
On Law and Grace
"Here is the thing: law and grace are friends. They were always meant to go together. If the law is the skeleton, grace is the flesh. Without the law in there, the grace is just a blob. And without the grace, the law can't move. It can't carry grace anywhere. If there is no law, there is no grace. And without grace, the law is dead. Your parenting needs to represent both the law and grace to your children."
On Taking Action
"When we ignore the sins our children are caught up in, that is not giving them grace. That has a different name: judgment. Think of Romans 1:24, "Therefore God gave them over to their sins." That was not an example of grace. Sin is like water. Children can drown in even a little bit. Looking away when your kid is stuck in some petty sin is like walking away from a kid who is floundering in really shallow water, and that is not giving grace. If you love your children, you grab them and haul them out of that danger. You get them all the way out. You don't watch from the house to see if it gets a lot worse. You don't decide that it is their problem, and wish them the best. You don't decide that there will be more time another day to get them out of that water. You don't sit beside the pool and chat to friends or post about it on Facebook. Grace is action."
On Direction in Life
"One of the most beautiful things is how obedience and encouragement go hand in hand. Obey, and God will strengthen your steps. When you look to God for direction, He always provides. We have a compass. We know the way. Sometimes the way seems like an important scrabble on hands and knees, but that is not the same thing as being lost."
On Gratitude
"Gratitude doesn't transform just our moods. In a very real way, gratitude is a force of change in the world. When you thank God for the filthy laundry that is in front of you, you are not motivated to walk away. Getting your attitude straight equips you to deal with things in an effective way. Being thankful for the problem is often the first step of the solution."
Want a copy?
Here are some ways to enter:
1. Leave a comment telling us which quote you loved above – and why.
2. Share the giveaway on Facebook. (It's easy if you use the share buttons at the bottom of the post.) Leave a comment letting us know you did it!
3. Tweet the giveaway and leave a comment!
4. Pin the giveaway on Pinterest and leave a comment!
Then come back this weekend to see who won! (The winner will be contacted by email.)
UPDATE: Congratulations Juli! (smock********@*****.com) You win the free copy of Fit to Burst!