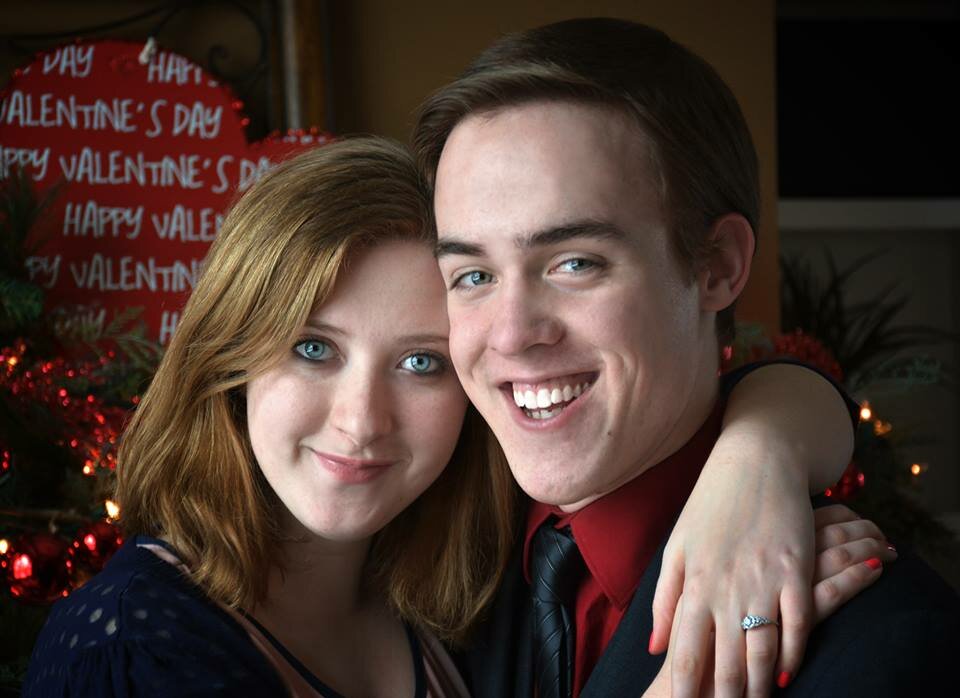 My oldest son walked through a door on Friday and asked a girl to spend her life with him. I've been dreaming about this time of launching for years, and here it is. Can I blab about it for just a bit? I need to download.
Sam was an unusual child. He learned to read when he was three. While other kids were playing football in the back yard, Sam was making 3D models using Blender.  He finished high school when he was 16 – had a 2 year degree and was three credits shy of a four year degree at age 18. He has been running his own, thriving business for two years.
But for some reason I thought he might not get married until he was much, much older. He didn't seem interested in girls at all. In fact, I remember just a year ago visiting with another couple from church and telling them I was worried that he might NEVER be interested in getting married. He seemed so content to just focus, focus, FOCUS on his work. He didn't have time for a girl.
But then a girl came along who wouldn't be ignored. Tess literally inserted herself into his life, and Sam looked up from his work and promptly fell in love. I'm not sure what would have become of him if Tess had not asked him if he could tell her ALL ABOUT—CLEP tests!
Sam met Tess through our church's small (large) group for single young adults. The group has a Sunday School class on Sundays with a fabulous teacher whom they all adore. (Hat tip to Mr. Thorson.) They also meet every Saturday night for Bible study and fellowship in addition to camping, swing dancing, and all kinds of other fun things. It's a fabulous group of beautiful young people, and we have been thrilled with the friendships and fellowship they've all enjoyed together.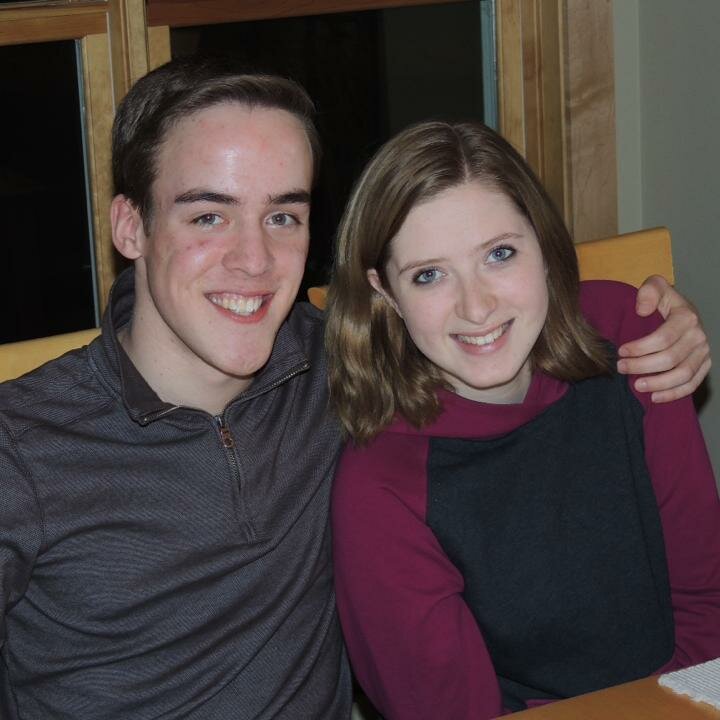 So these two kids got together one day to discuss CLEP tests over a cup of Caribou coffee. Sam, in his usual business like way, gathered up his large briefcase full of papers and sample CLEP study books and made his way to Caribou where he proceeded to wax and wane to this beautiful audience about the wonders of CLEPPING.
Tess, not the academic type, and not a little amused at Sam's enthusiasm for CLEPPING, politely listened for a while before turning the subject to more intriguing matters. And the rest is history. If these people interest you, I wrote about Sam's college path HERE and his unusual childhood HERE, and I scribbled a few thoughts about dating HERE.
They got engaged on Friday. Some of you have asked for details, so for anyone interested, here's a brief rundown of what happened—from a third party perspective, of course. This engagement story just goes to show that even the most cerebral of Wemmicks have a streak of romance flowing through their veins.
Sam put together a scavenger hunt for Tess. Here's how it played out: Tess woke up on Friday morning to a bouquet of flowers and a poem that contained a clue. This set her on a hunt that would take her to all the significant places in the (short) history of their relationship (about 8 months). Of course, the first place was Caribou coffee.
At each location, Tess was required to ask (in various clever ways) whomever was working for the next clue. Each clue was a carefully crafted (and funny) poem. At one of the stops she was given some money to get her nails done and go shopping (her mom was following her and met with her at this point to go shopping) for a dress and accessories for an evening out.
After her shopping was finished, she went home to get ready. A limo came to her door to pick her up and bring her to the restaurant where Sam was waiting at a table. After a lovely dinner, the waiter came out with Tess's favorite dessert. The story behind the dessert is that Tess is gluten free and has a dessert she loves at a bakery near by – so Sam had brought that dessert to the restaurant where the chef dressed it up with chocolate and flowers – and set the ring on top as the crowning glory. It was gorgeous.
Sam took the ring and got down on his knee and said words – I don't know what they were – and Tess said "YES!" We actually have some very blurry pictures of this whole thing because my sneaky husband and 17 yo son took their cameras and hid up in the balcony where they could see the couple and shoot a few photos. Unfortunately, Joe (my husband) thought he had turned on the movie camera – but he had actually turned it OFF. So we have no video footage, but Phillip got a few blurry pictures that were fun to look at.
Apparently the whole restaurant and hotel staff (the restaurant was in a hotel) knew what was going down – and Sam and Tess enjoyed the attention they got from the live band and several other folks who smiled, stared, and wished them well. They had a wonderful evening. Tess's aunt took some engagement pictures the next morning, and now they are busily planning an August 16 wedding.
They are both 20 years old and on the cusp of growing up.
Fast.