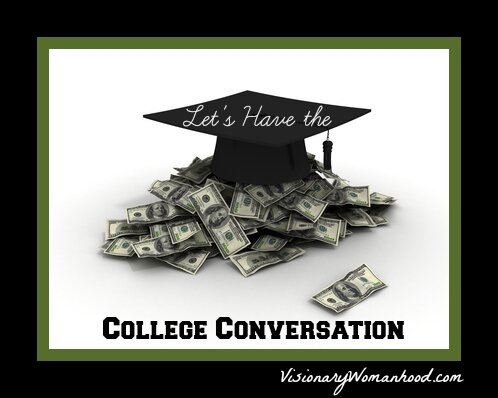 Yesterday, in Country Mouse, City Mouse, I addressed whether or not 'tis more godly to live in the country than to live in the city, and I argued that the option MOST pleasing to God is a combination of the two. Obviously it's The Burbs. Where I live. Because, of course, I always do what is most pleasing to God, and I think you ought to do the same.
Today I'd like to talk about college even though I've addressed it HERE and HERE. Please. If you haven't read those articles, do it. Just so you know where I'm really coming from. I don't want to get hate mail from any of you (although it always makes excellent fodder for future blog posts.)
Now, down to business. It was one of the comments on Monday that has become the inspiration for this article. Here is a bit of what the commenter said (emphasis is mine):
It seems to me that Scripture is on the side of those who are not sending their children to colleges where they "will become like their teacher" and "walk with the ungodly" where "bad company will corrupt good morals." I don't believe those unnamed leaders in this post are advocating Christians being uneducated or a return to monasticism. On the contrary, those I know of who are suggesting that many Christians should not be going to college are also strongly in favor of Christians being much better educated than those in the world. It is not necessary to go to college in order to get a superior education. I think Christians should refuse to send their children, and their money, to secular universities and colleges.
Quick Little Side Note: If the commenter is reading this, I'm not writing this post to pick on you, and I also realize based on later comments that we're all probably on a very similar page, so please don't take this personally. Your comment above simply represents the real thinking of hundreds of people who believe what you are arguing – and it is the argument that I am addressing in this article. If I could have you over for coffee, I would in a heartbeat, and I know I'd love you to pieces because you are passionate and visionary and not afraid to say what you think. You keep being all those things, OK? You are my sister in Christ. So I beg of you, brace yourself now and be strong while I try to demolish your argument. I repeat, your argument (one little piece of it, anyway). Not you.

While I have encouraged and supported the opening of minds to see that there are other viable options besides college (see article links above), and while some of our own children may choose not to go to college, depending on God's leading in their lives, I want to go on record as saying:
I do NOT agree that "Scripture is on the side of those who are not sending their children to colleges." 
If you are scratching your head thinking, "So – do you believe, then, that Scripture is on the OTHER side? You know, the one where people DO send their children to colleges?" The answer is, no, I don't agree with that either.
I would argue that Scripture is not taking a side on this issue; therefore, neither should I. So let's break this down.
Argument One
Scripture (and I'm assuming GOD) is on the side of those who do NOT send their children to secular universities and such. Can we assume that the opposite of this is true? That Scripture is NOT on the side of those who DO send their children to secular universities?
Argument Two
Scripture (and GOD) do not take sides either way. I would like to use the following verse as my standing place as far as whose side God is on:
'For the eyes of the LORD run to and fro throughout the whole earth, to give strong support to those whose heart is blameless toward him…" 2 Chronicles 16:9
So He is on the side of the blameless. Whose that? Scripture tells us:
"…even as he chose us in him before the foundation of the world, that we should be holy and blameless before him." Ephesians 1:4
So I take that to mean that God is on the side of those who belong to Him through the shed blood of Jesus Christ. Those are the blameless ones. Not because they don't sin or make bad choices, obviously.
Do we always know who those folks are? No, we don't. Jesus told a parable about weeds and wheat in Matthew chapter 13, and He said the disciples were to let them grow together. They were not to try to pull the weeds – or they might accidentally pull some wheat out too. The pulling had to wait for GOD's judgement. He pulls the weeds at the end of the age. In the meantime, we go to churches with weeds. We may even be a weed.
So God is on the side of His people. His children. The future "Kings and Queens of Narnia."
So what about the verses the commenter used. I'll give you the references so you can look them up in their context (and their entirety.)
"Do not be deceived: "Bad company ruins good morals." I Corinthians 15:33.
Here Paul is quoting a Greek guy named Menander. So actually God didn't say that. Menander did. Or wait – maybe Menander was just speaking a Truth. You've heard that "all Truth is God's Truth" right? Yeah. That.
 "A disciple is not above his teacher, but everyone when he is fully trained will be like his teacher." Luke 6:40
Jesus is actually telling his disciples that they will never be above HIM. The most they can hope for is to be LIKE HIM. (Read more commentary on this HERE.) So the verse, in context, is not saying that you will become like whoever teaches you. Thank goodness. Or I'd be an atheist several times over based on the fact that I had several outspoken atheist teachers in high school. (We had some rollicking good times together when I turned in papers and such, let me tell you.)
In fact, if that was a universal truth, we'd all be in really big trouble. Some Christians grew up with rotten, abusive parents who taught them all kinds of nasty things. Some Christians have to work with and under people of all persuasions. Are we all hopelessly relegated to lives of sin and degradation?
No. Jesus Christ is our Teacher. Not a university prof. The Bible is replete with examples of God-fearing men and women living right in the thick of paganism and the worst imaginable sins. They were "separate" in their character, in their relationship with Christ, in their focus and purpose in life, and in their thinking.
In addition to Clepping out of two years of college, our oldest son spent two years in a secular technical college when he was 16-18. He loved the Lord before those years in college, and he is still walking with Him now that those years are behind him. He belongs to Christ. Young people who "fall away" when they graduate and go off to college don't do it because the professors and peers lured them away from their first Love. They do it because their first love was something other than God in the first place. The college environment only exposed something that was already there.
As an aside, I hope to talk at length about Christian education vs. Humanist education at some point in the future. I think a distinction should be made between the education a parent selects for his impressionable child and an education a young adult selects for himself. Once your child is grown up – he needs to fly without you – and the direction he flies will be dictated to him by his G/god. That God may be the True God or a god of his making, but it will not likely have much to do with you at that point. The moral of the story is – lay the groundwork while they are young, and pray your guts out every single day.
"Blessed is the man who walks not in the counsel of the wicked, nor stands in the way of sinners, nor sits in the seat of scoffers;" Psalm 1:1
This poetry beautifully communicates the universal Truth that we would do well not to counsel with wicked, stand with sinners, and sit with scoffers. It's not saying that we can't ever stand next to a sinner or sit next to a scoffer. It's poetry. It's imagery and metaphor. It's saying we'll be blessed if we don't take the counsel of the wicked (wicked counsel) and participate in sin and scoffing along with sinners and scoffers.
Again, there are so many stories in the Bible of God-fearing men and women who were in close proximity to the wicked sinners and scoffers. Esther and Abigail were even married to some real humdingers. Were they not blessed? Well, actually, they probably had pretty sad lives, but the point is, that God used them where He put them, and while He did see fit to kill Abigail's husband, Esther probably had to live with her pagan man in a pagan court for many years after she saved her people.
Am I making the argument that we should all encourage all our kids to go to secular universities? No. I am merely saying that if some of our kids do go there, and God wants them to go there because they are going to be a doctor or lawyer or politician or engineer, or some other profession that requires a degree, then let's not make careless blanket statements that both Scripture and God are against them. Because it just isn't true.
That's all.