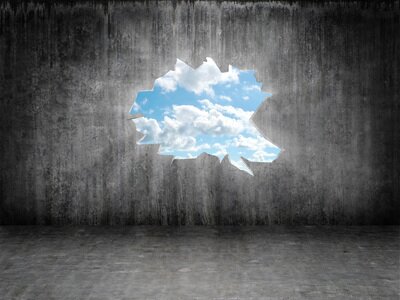 Whether they are family relationships or relationships with friends…relationships can really hurt.  They have the potential to bring so much joy and satisfaction, yet so many go sour, leaving destruction, pain, and bitterness in their wake.  Tragically, some discover this truth at a tender age.  It gradually dawns on others.  But for almost all of us, many relationships have either slowly or suddenly ended in disappointment and disillusionment. 
The problem of difficult relationships stems from sin.  Every Wemmick sins, and this affects our relationships.  We are all selfish.  We want others to cater to our needs.  We want to be appreciated.  Loved.  Understood.  Respected.  And we feel that we are more than willing to offer this to others…as long as they return the favor.  In all the right ways.  When this doesn't happen, we feel cheated, snubbed, hurt, and angry.  We believe we deserve better than that.  And the relationship begins to deteriorate from there.
Some relationships are not meant to continue.  Some friends are not really friends.  (Listen to Mark Driscoll's sermon on friendships HERE.)  In that case, it may be good to make peace and move on.  "If possible, so far as it depends on you, live peaceably with all." (Romans 12:18)
But what do you do when the most painful relationships are the ones under your own roof?  What do you do when relationships with extended family members bring heartache with every gathering?  What if the folks in your church family are the most difficult and hurtful folks you know?  You can't wiggle away from those kinds of relationships quite so easily.
In the midst of blinding and sometimes crippling pain, we need to catch a glimpse of the situation from a higher perspective in order to make sense of it all and maintain a healthy, whole, purposeful life.  I'd like to share five ways to see painful relationships from an eternal perspective.  God's perspective.

1. God designed painful relationships to help us mature.
Children are unable to see past their own selfish desires.  They feel pain and cannot see beyond that.  As they mature, they are able to see things from more angles and have a grasp on the fact that the world doesn't revolve around them.  There are other factors.  Other humans with other desires and other opinions and other feelings.  They are able to assimilate those facts and act in more mature, responsible ways in all of their relationships.
Not everyone grows up though.  In fact, because of our culture, which teaches that we should always be looking out only for ourselves (remain in an infantile state of helplessness and victimhood), many adults are simply children in grown up bodies.  The temper tantrums are more sophisticated (sometimes), but the attitudes of the heart are exactly the same.  Child-like and self-focused.
When we are placed in painful relationships, we will either continue as children, reacting in selfish, immature ways, or we will cry out to God to "grow us up" so that we may be strong, godly women of grit.  Women who persevere in loving those who are unlovable.  This is true maturity in Christ.
Love is patient, love is kind. It does not envy, it does not boast, it is not proud. It does not dishonor others, it is not self-seeking, it is not easily angered, it keeps no record of wrongs. Love does not delight in evil but rejoices with the truth. It always protects, always trusts, always hopes, always perseveres.

I Corinthians 13:4-7
2. God designed painful relationships to teach us meekness.
We do not value meekness in our culture.  It is wrongly assumed to mean "weakness".  But a closer examination will demonstrate the opposite.  The Bible describes both Moses and Jesus as being characterized by meekness.  When you think about what Moses accomplished in his lifetime…and what the King, Jesus Christ, endured while he walked among Wemmicks…it's obvious that meekness could not possibly be interpreted as weakness.
When he was reviled, he did not revile in return; when he suffered, he did not threaten, but continued entrusting himself to him who judges justly.

1 Peter 2:23
The fact that very few Wemmicks have this character quality proves the point.  Meekness is nearly impossible to attain.  Only the strongest in character, the closest to the Savior, the most humble among us…will exhibit meekness, thereby inheriting the earth. (Psalm 37:11)
When Christ was verbally abused by Wemmicks, He did not give them the silent treatment.  He didn't scream back at them.  He didn't take off in a huff.  He didn't hit them back.  He didn't do what every other Wemmick would do.  Instead, He died for them.  He asked His Father to forgive them.  He loved them.  That's weakness?  No.  That is meekness.  Our relationships give us many opportunities to practice walking in His footsteps.
…but let your adorning be the hidden person of the heart with the imperishable beauty of a gentle and quiet spirit, which in God's sight is very precious.

1 Peter 3:4

3. God designed painful relationships to teach us forgiveness.
The whole crux of salvation is the fact that Wemmicks, who hate God and reject His ways, are FORGIVEN in spite of their rottenness, because God sacrificed His Son in their place.  The Bible tells the story (Matt. 18) of how a man who owed more money than he could ever pay in his lifetime was miraculously forgiven that debt…and then promptly went out and imprisoned another man who owed him a few pennies.  We hear that story and are disgusted with such obvious pettiness and ungratefulness.  But every time we refuse to forgive someone who has hurt us…we are that ugly man.
We experience the pain that another Wemmick has inflicted on us, and we rise up in indignation.  I've even hated.  (God calls that murder!) What it proves is that we truly believe we deserve forgiveness ourselves…but nobody else deserves it.  The fact is…nobody deserves forgiveness.  It is a free gift gratefully embraced…and then generously offered to others.  Every painful relationship gives us many opportunities to show God our gratefulness for HIS forgiveness and salvation from the pit of Hell…by in turn forgiving those who offend us. 
People who forgive are at peace within themselves.  They are relaxed and able to sleep well at night.  They are emotionally healthy and therefore do not suffer from physical ailments that are hormonally related to anger, anxiety and bitterness.  There are so many benefits to being a forgiving person!  God wants to help us grow up to maturity in this area…and where we are weak…He will show Himself to be strong if we cry out to Him.  I've done it.  It's excruciating.  And it works.
Forgiveness is the scent that the rose leaves on the heel that crushes it.

John Arnott
4. God designed painful relationships to teach us endurance.
Athletes train for one reason.  To get stronger.  To get better.  To go further.  Their bodies learn endurance through hard work and training.  Likewise, if we want to get stronger and go further in our spiritual life, then we must learn how to endure the hard work and training it requires to get there!  Painful relationships are a perfect training ground for this!
You can't get away from painful relationships.  They are in your face everywhere you turn.  God has sovereignly ordained them in your life for good purpose.  You can either fight Him and live in agony…or surrender to His training program, lovingly designed just for you, and experience the peace and joy that He wants to give you in the middle of the pain!
More than that, we rejoice in our sufferings, knowing that suffering produces endurance, and endurance produces character, and character produces hope, and hope does not put us to shame, because God's love has been poured into our hearts through the Holy Spirit who has been given to us.

Romans 5:3-5
5. God designed painful relationships to drive us to Him…the Source of true joy and satisfaction!
This is, by far, the greatest benefit to having painful relationships in your life.  It is in the darkest days of  life…days of rejection and heartache…that I have found the deepest comfort in Christ.  And honestly, I wouldn't trade those experiences for all the happy-go-lucky relationships in the world.  I've learned over the course of life that Jesus is all I really need.  And He is MORE than enough to fill me with love, satisfaction, joy, and a happy outlook for my future on earth as well as eternity.
Would I have discovered the depth of His love if I had never been driven to despair in my earthly relationships?  I think not.  God knows me.  He knows I will float through life satisfied with plastic baubles unless He shakes up my world now and again.  He mercifully strips everything away, except Himself, and my eyes are opened to see that He is the real treasure my heart longs for.
But my people have changed their glory for that which does not profit.  Be appalled, O heavens, at this;
be shocked, be utterly desolate, declares the Lord, for my people have committed two evils:
they have forsaken me, the fountain of living waters, and hewed out cisterns for themselves,
broken cisterns that can hold no water.

Jeremiah 2:11-13
Earthly relationships are broken cisterns that hold no water.  Don't rely on them for your happiness.  On the other hand, Jesus Christ is the Fountain of Living Water.  He is your Glory and the Lifter of your head.  So when the relationships bring your heart sorrow, rejoice in the Savior and find your joy in His everlasting love.