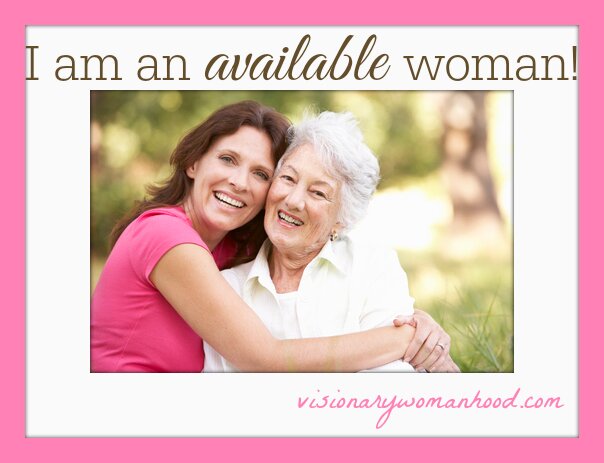 Raise your hand if you raised your eyebrows at the title of this article. I'm sitting here at Caribou Coffee trying to cover up the title so nobody thinks something they're not supposed to.
I took the title from a tasty little excerpt in a book I'm reading. You'll love this:
"Last week at a conference in Boston, a middle aged woman whose name I have already forgotten said to me, "I'm an available woman. That's my job. When people ask what I do, I just say I'm an available woman." I asked if she ever found herself out of a job. Laughter was her only response. No doubt laughter has been the response of some of those who have heard her job description, but she does the job for God, not for the prestige.

The choice to become parents is a choice to be burden-bearers. Motherhood can change a giddy girl into a sober woman very quickly. Fatherhood also means taking on the frightening demands of providing for totally dependent people.

It means being willing to give up a good many hobbies and pastimes, the guarantee of an unbroken night's sleep, the ease of coming and going when you please. It means a willingness to change a diaper (yes, even one that isn't only wet), take out the garbage, read a bedtime story, lug the potty chair and the playpen and the carseat all over the place.

It means using a whole lot of skills you haven't got, and not using the ones you know you've got. A friend who has experience in one prestigious field and is not working in a much humbler one wrote to me of the joy of knowing she is where God put her. But sometimes there's a nagging little voice that reminds her that she isn't "using her skills." I quoted her to my sister-in-law, whose response was, "Good training for motherhood!"

The spiritual analogies are plain. The choice to become a spiritual parent is a choice to lose one's life. It is a choice to become a burden bearer. Spiritual dependents are a disruption and a burden. The prospect is daunting, and the greater our appreciation of such a high calling, the greater our sense of inadequacy.

"High expectations can always be crippling," writes a middle-aged bachelor, ruminating on the postponing of marriage and family. "I don't want to be slipshod or inadequate, aloof or overbearing; I don't want to…accept tasks that I will do poorly. And so I stop at the pool's edge, computing the water's depth, dipping a toe for the temperature, and premeditating, appraising, forming opinions, being practical and praiseworthy, while others very happily swim or pitifully sink. How to explain, otherwise, my ambivalence, my inability to say yes, of course to the issue of marrying and having children after so many paragraphs than to say that I am overawed by the importance and permanence and risk of the issue?

What God calls us to do is always impossible. Impossible, that is, without His help. It is always too big for us, too demanding. The price is too high. Yet He calls us to count not our lives dear to ourselves. Fathers and mothers haven't much time to think about the impossibilities. They must simply do the job.
Taken from The Path of Loneliness by Elisabeth Elliot.