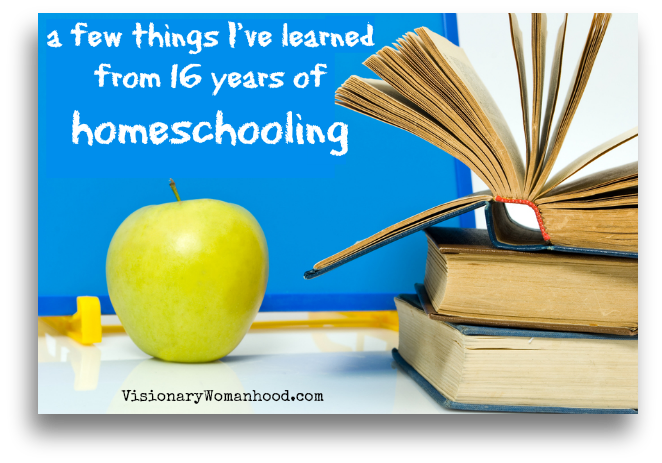 B

y Natalie Klejwa, Editress of Visionary Womanhood

This month (August 2013) we're going to focus on home education. To kick us off, I thought I'd share a mish mash of things I've had to learn (sometimes the hard way) over my own 16 years of homeschooling, because folks, I have finally arrived at homeschool nirvana.

C'mon. I'm kidding. Here we go:
What's Good for Your Friend and Her Child May Not Be What's Good for You and Yours. And Vice Versa.
When I started homeschooling, my oldest was three-years-old. He learned how to read before he turned four. I've had several children since then and have consequently learned that this is pretty bizarre, actually. Not a single other child in our family has even come close to this record, but the point is, that child wanted to learn, I wanted to teach him, and it worked out pretty well.
I had the privilege of being part of a church that was big on homeschooling, so I benefited from the experience of those who had gone before me. We had a monthly gathering where the ladies would bring their curricula for us younger women to preview. They would answer our questions and allay our fears. It was incredibly helpful.
But one thing stood out to me that probably wasn't so helpful. Most of them discouraged me from teaching my 3-year-old how to read so early. There was a trend toward waiting (and I understand why – most children are not developmentally ready to learn at that age), and they were concerned that I might push my son too hard. But the thing is, my son was brilliant, and he was learning at such a fast rate – I couldn't keep up with HIM!
I felt like I was doing something wrong by teaching him so early. Fortunately I followed my gut instinct and went ahead anyway. That child ended up finishing high school at age 16 and graduating from college at age 18. He now works full time running his own business.
But the story isn't over, because my second child, who turned out to be "normal" academically, didn't learn to read well until he was 7. Thinking that all it would take is Learn How to Read in 100 Easy Lessons again, I attempted to teach him early too. Big mistake. I learned after four years of head banging that sometimes there is benefit to waiting for the child's readiness before shoving phonics down their throats.
Younger Kids Learn a Lot From One Simple Thing: Reading
Read, read, read. Read books about nature, animals, machines, seasons, historical figures, and historical events. Read allegories, poetry, Scripture. Read chapter books to them before they go to bed. One chapter a night. Three of the most memorable books for our kids have been The Hidden Hand, Ishmael, and Self-Raised, all by E.D.E.N. Southworth. (Get FREE Kindle editions of these and other books by this author HERE.)
We love picture books for the younger kids. Big, beautiful, hardcover picture books. They make deep impressions on little minds. If you can't afford them, check them out from the library. We did.
Reading out loud increases their vocabulary comprehension as well as their ability to properly structure sentences both verbally and in written form. It increases the brain synapses, enabling them to become better thinkers and learners. Use whatever curricula you choose, but by all means, READ.
The More Well Known Curricula are More Well Known for a Reason
I'm not saying the smaller, fringy curricula out there are bad or shouldn't be used. I'm just sharing, from my own experience, that I have tried a lot of different things, and I've ended up chucking most of it in favor of the well established, larger companies who have put together a high quality product and have good customer support.
With the smaller curricula, there tend to be gaps which ultimately lead a parent to search for another small product to fill in that gap and so on and so forth. Pretty soon one has a hodge podge of various bits and pieces that never quite fit together cohesively. I noticed that as my family grew, and I added more students to the mix, it became more complicated to keep up with all the various components.
There are a few companies that I can confidently recommend after using their curricula for many years with success:
2. Institute for Excellence in Writing
4. Teaching Textbooks (upper grade math)
Don't Be a Homeschool Method Snob
It's easy, as a young mom, to think that your way is the best way. I've been there. I used to think I ROCKED at everything. And then I grew up and sheepishly found out otherwise. There are many different ways to homeschool your children. Some will do it the Charlotte Mason Way. Some will do it the Traditional Textbooks Way. Some will do it the Classical Education Way. Some will do it the Unschooling Way. Some will do it the Character Comes First Way.
Guess what? I've tried all those ways over the years – except the traditional textbooks way. (And shhh…don't tell anyone, but we are using ABeka online video school this next year all across the board – just for kickers – because I want to find out how it works. Just call me Curious George.)
These methods are all useful in different ways, and I believe each mother needs to do what fits her personality and style. God placed those kids in YOUR home for a reason. Live with freedom and flare! Dare to be YOU! They will turn out exactly the way God wants them to if you'll just embrace yourself and your own style of teaching.
Kids Need to Learn HOW to Learn, and How to Enjoy Learning
In our culture we think of education as being this isolated Thing that one does for 12-16 years. It's a Hoop you go through, and then it's over. Education is completed. You can move on to Real Life.
I propose that education is LIFE. Life is EDUCATION. And it should be a wondrous discovery, day after day, of the various things in God's world. I have relished life. I have enjoyed learning how to do a myriad of things over the years since I graduated from college. In fact, I would most definitely say that the majority of the skills and knowledge I currently have were acquired in the years after I graduated.
Reading books, watching tutorials, practicing hands-on skills, gaining insights from professionals in a given field, and being allowed to move forward, experiment, and make mistakes are the best ways to learn and grow as a human being. Fortunately, the home is a terrific place to foster this kind of creative freedom and opportunity.
Give your kids books, tools, and other things they need to do that kind of exploring. By the time your kids are 10 years old, they don't need toys for birthdays and Christmas. Give them real life stuff! They will LOVE it. Both of our older boys are in fields of work that they started exploring in their late grade school and Jr. high years of school. It involved buying them expensive software and computer equipment instead of toys and clothes. It probably looked weird to extended family. But it's worth being weird when they get older and you see the benefits start coming to fruition.